Ukrainian maritime drone damages Russian warship in Novorossiysk (VIDEO)
One of the Ukrainian maritime drones hit a large Russian landing warship during the nighttime attack on Russia's naval base in Novorossiysk last night.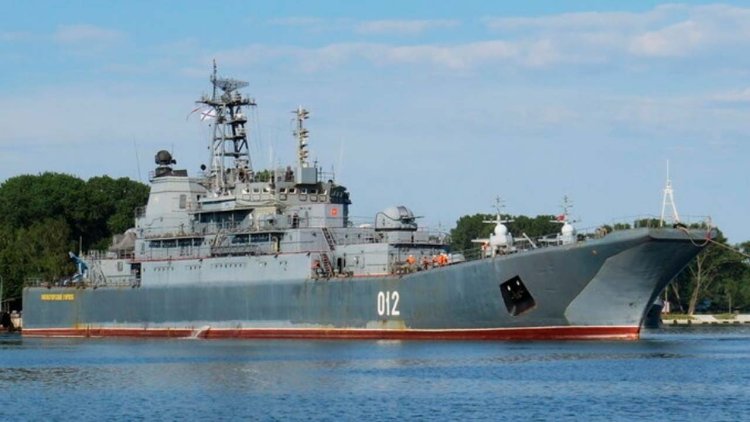 The Security Service of Ukraine with the Ukrainian Navy carried out a special operation in Novorossiysk Bay. During an attack of naval drones on the Russian naval base in Novorossiysk, a large Russian landing warship Olenegorsky Gornyak (Olenegorsk Miner) was damaged.
Unverified video footage published on social media purported to show damage to the vessel. The video shows a naval drone attacking a Russian ship, approaching the port side of the ship, then the video ends.
In other video, it was seen listing heavily to its port side. Presumably, one of the interior compartments of the ship is filled with water as a result of sustaining a hole. It is being towed to the Russian Navy base in Novorossiysk. The landing craft is accompanied by rescue vessels.
The mayor of Novorossiysk, Andrey Kravchenko, said that the Project 775 large landing ship Olenegorsky Gornyak and the P-349 Suvorovets anti-saboteur boat were involved in repelling the attack of surface drones. Although the video shows that the landing ship did not perform any manoeuvres, she was simply near the shore.
A Ukrainian intelligence source said the Olenegorsky Gornyak, a Russian Navy landing ship, had suffered a serious breach and could not conduct combat missions.