Update to Vessel blockage in the Suez Canal
Shipping companies have redirected vessels around the Cape of Good Hope at the southern tip of Africa.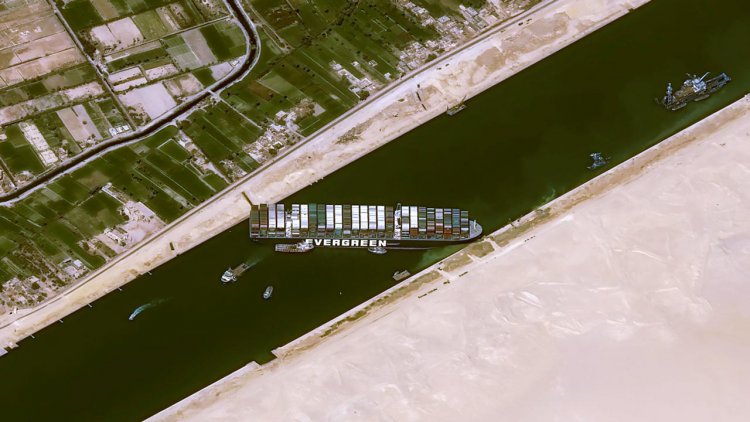 Photo: Suez canal blockage seen from space. Airbus-built Pléiades high-resolution satellite image showing a container ship stuck in the canal. Copyright: CNES/AirbusDS
Statement from Evergreen
Having removed more than 20,000 tons of sand and mud, the dredging operation underway has succeeded in loosening the EVER GIVEN's bow within the bank of the Suez Canal and the ship's stern has been cleared from the sand bank.
The rudder and propeller of the vessel are fully functional and expected to provide additional support to tugboats assigned to move the container ship from the accident site so that normal transit may again resume within the canal.
The rescue team is continuing the dredging efforts and will resume attempts to refloat the vessel.
Statement from Maersk
Whilst efforts continue to dislodge the container ship, numbers show that over 300 ships are now waiting at anchorage to pass through the canal.
Currently Maersk and partners have three vessels stuck in the canal and 27 vessels waiting to enter the canal. Maersk has until now redirected 15 vessels around the Cape of Good Hope at the southern tip of Africa.
Statement from The International Chamber of Shipping (ICS)
Guy Platten, secretary general of the ICS, said:
"This kind of incident is rare, and it is a relief to see that no crew were injured and there has been no pollution. The world relies on the shipping sector to keep all of us supplied and the incident in the Suez Canal has shone a spotlight on the delicate nature of these global supply chains.
The literal 'pinch point' of Suez is a prime example of how an unexpected incident can disrupt the finely balanced system that we all rely on.
The majority of trade between Asia and Europe still relies on the Suez Canal, and given that vital goods including vital medical equipment and PPE, are moving via these ships we call on the Egyptian authorities do all they can to reopen the canal as soon as possible."
An estimated 12% of global trade passes through the Suez Canal, comprising more than one billion tonnes of goods each year.
Guy Platten continued:
"Not only will the goods aboard the Ever Given be severely delayed on their journey, but the hundreds of other ships are also affected. The damage done to the global supply chain will be significant."
"This also speaks to a deeper problem. The governments and markets are sitting up and paying attention to this issue as we can clearly see an economic fallout from the delay to goods the blockage will cause. But shipping's ongoing crew change crisis has been largely still invisible to wider public. Crew are still working hard around the globe to keep global trade moving, despite 200,000 seafarers being impacted by overly harsh restrictions which stop them boarding or disembarking ships."
"We hope this incident will remind governments of the vital role that seafarers and shipping plays in keeping the world supplied. Seafarers must not be forgotten as soon as this incident is over."