Suez Canal: How the incident with EVER GIVEN will impact on LNG Transit
Navigation through the Suez Canal is temporarily suspended. The chartered vessel EVER GIVEN ran aground in the Suez Canal on March 23.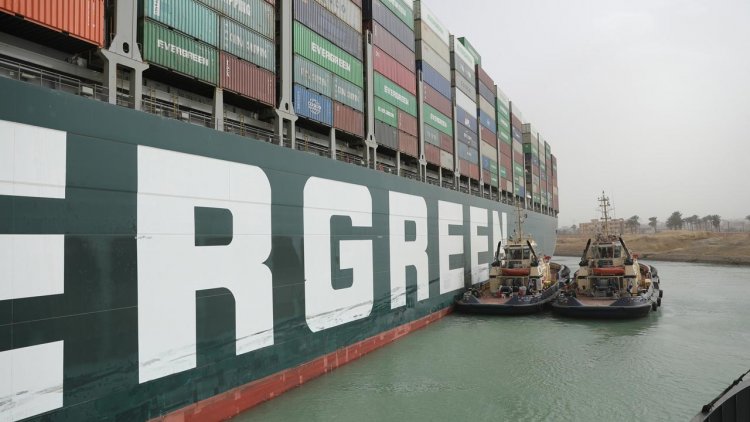 Photo: Suez Canal Authority
Admiral Osama Rabie, Chairman and Managing Director of the Suez Canal Authority has announced on Thursday March 25th, 2021, that navigation through the Suez Canal is temporarily suspended until the floatation works of the large Panamanian container vessel EVER GIVEN; that ran aground at the 151 km area (Canal Marking), are complete.
His Excellency has declared that witnessed the transit of 13 vessels from Port Said, among the Northern convoy, that were expected to continue their transit through the Canal according to projections on the time of completion of the floatation works of the grounding vessel. However, an alternative scenario had to be adopted; which entailed those vessels dropping anchor in the Bitter Lakes waiting area, until navigation can be fully resumed after the floatation of the vessels.
The floatation efforts included towing and pushing the grounding vessel using 8 large tugboats; largest of which is BARAKA 1 with a towing power of 160 tons.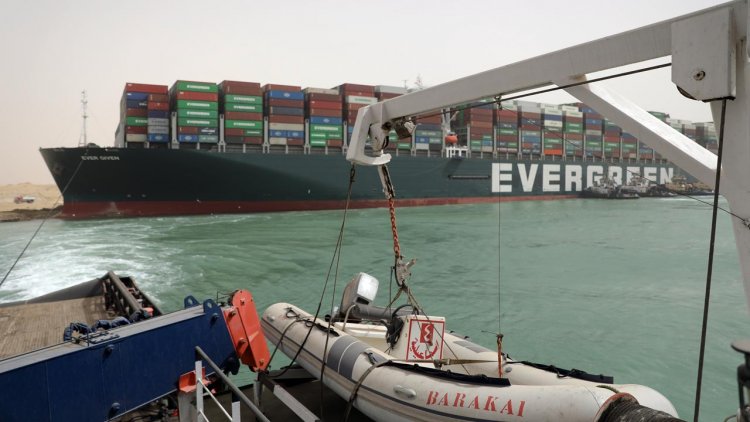 Evergreen has urged the shipowner to investigate the cause of this accident, and work closely with Suez Canal Authority and related agencies to refloat the stranded ship as soon as possible.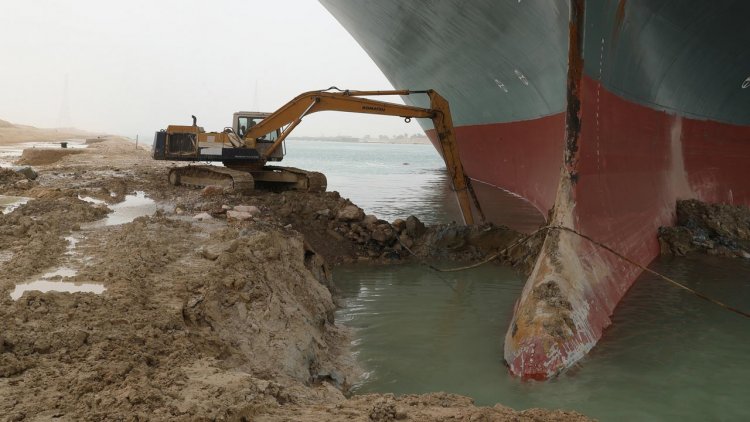 Wood Mackenzie principal analyst Lucas Schmitt says about the congestion at the Suez Canal and impact on LNG:
"At least 15 ships initially due to transit the Canal on the same day were forced to wait at anchorages. More have arrived since, creating a build-up of vessels close to the Northern and Southern entrances and within the Canal itself.
"The impact of this disruption on the LNG market will be limited if the disruption is solved within a day or two. Only a handful of LNG cargoes were in the close vicinity of the Suez Canal when the incident started. At this stage, we don't expect major bottlenecks, unless the situation drags on.
"The Suez Canal is a key channel for LNG ships – with around 8% of global LNG trade going through. So far in March 2021 a handful of cargoes have been transiting each day in both directions (until the disruption)."
The impact could be greater if the disruption lasts longer, as the recent delays at the Panama Canal illustrated. However, the timing of this incident means it will have less impact on prices than that of the Panama since we're entering the shoulder season for the LNG market."
Charter rates are currently low – around 30 k$/d – but could tighten up (reflecting the additional tonne-mile needed to bypass the canal) if the disruption lasts. Shipping optimisation might be complicated, particularly for ships already within the Mediterranean and Red Sea. Further delays would impact both loading and discharge schedules and disrupt some flows, mostly to the European market."