Submersible ROV for the REV Ocean research vessel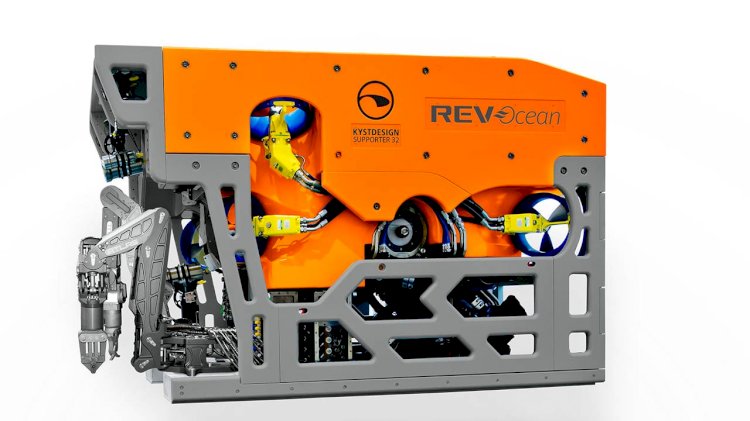 REV Ocean is excited to announce the purchase of the Supporter 6000 ROV from Kystdesign AS in Aksdal, Norway. The state of the art submersible will be one of the most important tools used to achieve the core scientific goals of the REV Ocean research vessel.
REV Ocean, will be equipped for conducting missions that cover the entire marine ecosystem. The vessel will be used by scientists and innovators worldwide to develop ocean solutions and conduct research on issues such as plastic pollution, CO2 impacts on the ocean and unsustainable fishing practices.
The deep-diving Supporter ROV allows for truly unique opportunities for close-up observation, experimentation and behavioral study of ecosystems living at depths that are typically inaccessible. The ROV will be fitted with cameras, sonars, manipulator arms, suction samplers and a wide range of scientific sensors. It will be launched through the ship's moon pool, enabling dives in harsh weather and in ice infested waters. It will also be operated from a state of the art control room where ROV-pilots, mission specialists and scientists can interact during the dives.
REV Ocean CEO, Nina Jensen, said:
"The REV Ocean mantra is to 'work with the best' and we have truly achieved this by partnering with Kystdesign. The ROV fulfils many of our multidisciplinary research needs and will be a key component to help achieve our core mission of going from 'curiosity to understanding to solutions' for ocean health."
Kystdesign Managing Director, Erik Kold Bakkevig said:
"We are very grateful to have the opportunity to deliver our flagship ROV to this unique vessel that Kjell Inge Røkke and his team at REV Ocean are about to realize. Winning this contract with REV Ocean is further strengthening our position as the leading manufacturer of deep-water ROVs. We are very proud and honoured to have REV Ocean as a customer and wish them good luck in the endeavour to secure a healthier ocean."
The ROV is uniquely designed to fulfil REV Ocean's essential science needs including deep sea geophysical surveys, exploring hydrothermal systems, conducting complex sampling programs, and filming rarely observed deep-sea ecosystems. The Supporter technology has developed from years of operational, "hands-on" experience by the talented engineers at Kystdesign. The ROV has a compact architecture that does not compromise on operational capability, has a very consistent track record, and also provides for easy maintenance. It can accommodate up to 24 hydraulic tooling functions, up to 16 scientific sensors and 10 camera connectors. All hydraulic functions are proportionally controlled, and all electrical power supplies are ground fault monitored. The ROV control system offers a variety of auto-functions like AutoPOS and AutoTRACK capabilities.