VARD Brattvaag equips a new REV Ocean research vessel
The REV Ocean vessel has arrived at the Vard Brattvaag shipyard to begin its next phase of evolution from a floating steel hull to a state of the art research vessel. REV Ocean departed the Vard Tulcea shipyard in Romania just under 30 days ago and arrived ahead of schedule in Norway, being pulled efficiently by the tugboat Kamarina.
Nina Jensen, CEO of REV Ocean, said:
"Today is one of the most exciting moments in the development of our research vessel. We now watch with great anticipation as she will develop into a full-fledged and operational vessel with state of the art scientific equipment to be installed by the talented team at Vard Brattvaag. This is a major milestone towards achieving our mission of achieving one healthy ocean."
Erik Haakonsholm, the new General Manager of VARD offshore and specialized vessels and head of Vard Design says:
"At VARD we have long experience in building sophisticated and exciting vessels, but the size, complexity, and purpose of this vessel add extra enthusiasm for all parties involved. We expect high activity at our yard in Brattvåg as our employees eagerly take on the outfitting phase. This project also generates a positive spinoff effect in Norway outside VARD."
REV Ocean will be equipped for conducting missions that cover the entire global marine ecosystem and will be an inclusive global vessel for testing and proliferating ocean solutions. The vessel will be used by scientists and innovators for solutions-oriented research that explore issues such as the impact CO2 emissions have on the ocean, plastic pollution, and unsustainable fishing. The vessel is 182.9 meters long and will have the capacity of holding 55 scientists and 35 crew. Equipment on-board includes scientific trawls, sonar systems, laboratories, auditorium, moonpool, Triton submarine with 2300 meter depth capacity, an ROV with 6000 meter depth capacity and advanced communication equipment.
George Gill, Project Director and Owners Representative, said:
"REV's arrival in Brattvåg is a crucial step in her development, she will lay here in Norway for the coming months, and this establishes the core groundwork for the research and operations of the vessel. Getting these important systems and her keystone machinery right is critical to her success and position within the Worlds research fleet. We have an excellent collaboration with VARD and the whole of the Owners Team look forward to these months ahead and REV's delivery to us and the next phase of her gestation."
Dag Vikestrand, Yard Director at Vard Brattvaag says:
"We would like to thank our colleagues at Vard Tulcea for their contributions so far in this exciting and innovative project, and we are looking forward to continuing the outfitting and completion of the vessel in close cooperation with the REV Ocean team and all other parties involved."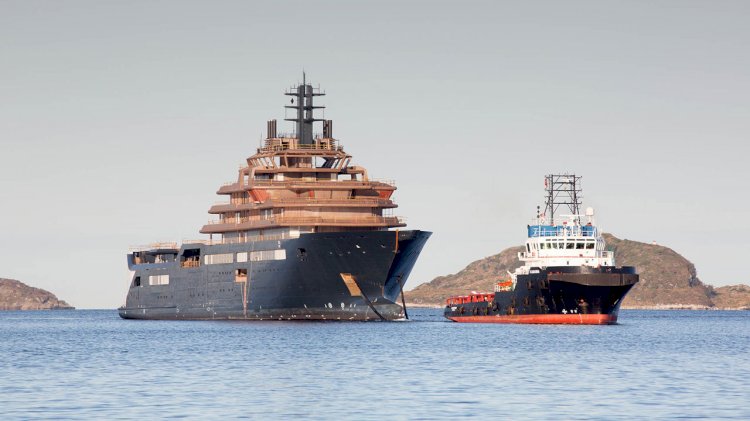 REV Ocean will strive to fill critical knowledge gaps, develop innovative solutions, and bridge science, business and policy sectors to achieve positive change. Taking on the role of ocean REVolutionaries the goal is to create positive, measurable impact; provide a pathway for others to follow and motivate the next generation of ocean leaders.
Oystein Mikelborg, REV Ocean Operations Director, added:
"The arrival in Brattvåg is a major milestone and a new chapter for REV Ocean. In the next few months, VARD Brattvaag will turn this into one of the world's most advanced research vessels. The complexity and sheer scale of the work ahead is challenging, and I know it will be very busy days ahead both for the yard and the Owner's team. Modern multi-purpose research vessels are notoriously complex as there are so many sensitive systems that need to work seamlessly together. However, given VARD's track record of building complex world-class vessels, we are confident in their ability to make REV Ocean the vessel we have envisioned."
REV Ocean is a not-for-profit foundation established and funded by Norwegian businessman Kjell Inge Røkke together with marine biologist Nina Jensen, former CEO of WWF Norway (Verdens naturfond).