OCEAN FARM 1 receives first ever offshore fish farming class certificate from DNV GL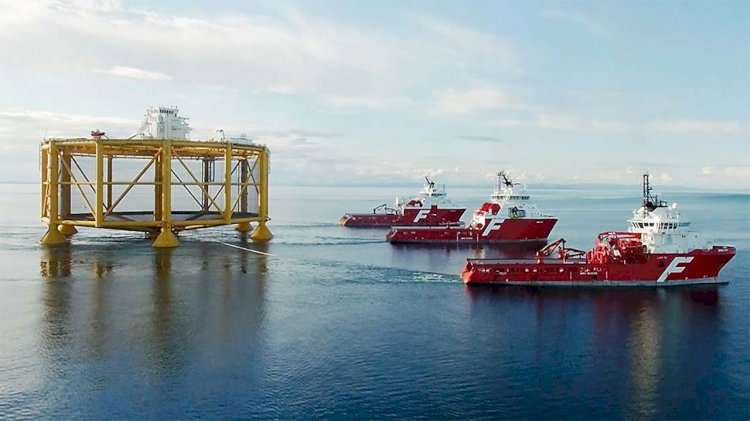 Photo: DNV GL
Developing and expanding sustainable aquaculture will be essential as the demand for fish grows around the world.
Owned and operated by SalMar, Ocean Farm 1, is the first salmon farm designed and built for exposed operation, with a novel design that combines solutions from aquaculture and the offshore industry. The certification of Ocean Farm 1 to a new DNV GL standard for offshore fish farming installations, represents a vital first step towards the utilization of new ocean spaces for aquaculture.
The unit was delivered in June 2017 from Wuchang Shipbuilding Industry Group in Qingdao, China, and transported to Norway for installation. DNV GL provided 3rd party verification and certification covering the design, construction, transport and installation, enabling Ocean Farm 1 to meet the Norwegian NYTEK regulations and to operate safely for salmon farming.
The unit was also awarded the new OI Offshore fish farming installation POSMOOR class notation, which confirms that Ocean Farm 1 was built in accordance with DNVGL-RU-0503 Offshore fish farming units and installations. Ocean Farm 1 is in part a pilot project to test the concept of offshore fish farms in exposed locations.
Olav Andreas Ervik, CEO of SalMar Ocean, said:
"The expansion of fish farms into exposed locations is based on a combination of two well-known concepts – offshore technology and fish farming. Applying offshore and maritime competence in a new context offers new possibilities in open ocean aquaculture. In ground breaking projects such as Ocean Farm 1, it is essential that we have top of the line risk reduction and quality assurance in place, and throughout every phase of this project, DNV GL's contributions have been essential to ensure its success and operational excellence."
Geir Fuglerud, DNV GL's Director of Offshore Classification, says:
"This has been a very exciting project, that has enabled us to demonstrate the broad range of technical competencies DNV GL can bring to innovative projects. Ocean Farm 1 is the first of several aquaculture projects planned for more exposed ocean installation in Norway, and with the experience we and the industry gain from this installation we hope that this marks the beginning of a new era for sustainable aquaculture."
Key dimensions of Ocean Farm 1:
Height: 69 m
Diameter: 110 m
Volume: 250,000 m3