AKVA Group to supply new feed barge to Iceland
The Icelandic fish farming company Laxar Fiskeldi has chosen AKVA group as a supplier of an AC 650 Panorama.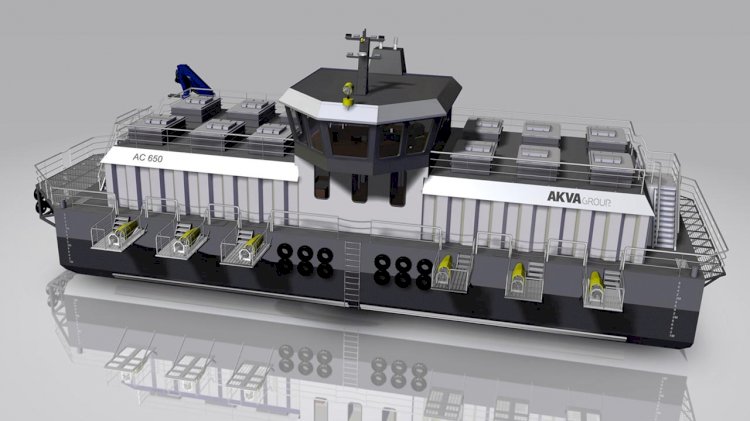 Photo: AKVA Group. The illustration image shows an AC 650 Panorama with other specifications than the delivery to Iceland.
The feed barge will be put into operation at the company's locations in eastern Iceland.
AC 650 Panorama has a large feeding capacity of 650 metric tons in 12 silos, has 8 feeding lines with selector valves and options for AKVA Hybrid battery pack.
The AC 650 Panorama feed barge is the second feed barge AKVA group delivers to Laxar Fiskeldi, which is a key player in the growth of salmon production in Iceland.
Hans-Øyvind Sagen, Sales Director Nordic in AKVA group, says:
"Iceland is an exciting, up-and-coming market with great opportunities for further growth. With this delivery we are consolidating our leading position as a supplier of feed barges to Iceland."
Laxar Fiskeldi has recently received an increased production license on the east coast of Iceland and is now heading for a production capacity up to 16,000 tonnes annually. Gunnar Gunnarsson is Production Manager in the company. Vast experience within the aquaculture industry provides him with perfect insight on the essential requirements for a feed barge.
Gunnarsson says:
"We need feed barges with superior safety, stability and durability. In addition, silo, silage and feeding capacity and functionality are key. Good equipment is a significant success factor for us to succeed, and AC 650 Panorama from AKVA group has the qualities we are looking for."
AC 650 Panorama has a large feeding capacity of 650 metric tons in 12 silos, has 8 feeding lines with selector valves, options for AKVA Hybrid battery pack, and is delivered with a veterinary room, workshop, control room, wardrobe, cabin and more.
Laxar Fiskeldi is located close to AKVA group's service station in Eskifjordur, and already has a delivery and service agreement with AKVA group for net equipment.
Sagen says:
"It is a good foundation to further develop our collaboration in fish farming equipment. We look forward to following Laxar's production and further growth."
Laxar Fiskeldi operates 2 smolt facilities and 1 post-smolt facility in southern Iceland and operates a pen-based fish farming facility in Reyðarfjörður on the east part of Iceland. The head office is located in Eskifjörður.
AC 650 Panorama
Feed storage capacity: 650 metric tons (12 silos)
Silage: Up to 60 metric tons
Length/width (ex. platforms): 31,3 m/12 m
Dimensioned to withstand up to 4m significant wave height (Hs)
Modern living quarters, veterinary room and suitable accomodation for longer stays