H-Line and DNV open doors to Korean LNG fuel market
The Capesize ships will be the first large LNG-fuelled vessels to trade internationally from Korea.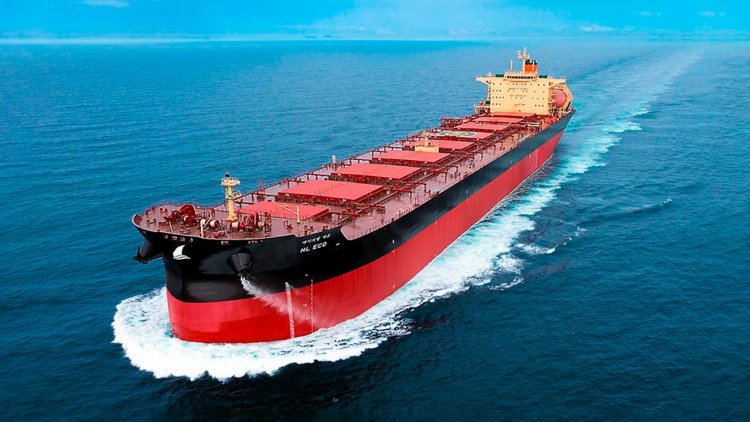 Photo: DNV
DNV has awarded its gas-fuelled notation to two LNG dual-fuel (DF) bulk carriers built at Hyundai Samho Heavy Industries (HSHI) for Seoul-based H-Line Shipping.
The two vessels, HL Eco and HL Green, are able to run on LNG instead of conventional fuels. When running on LNG, H-Line reports that sulphur oxide emissions are reduced by 99 per cent, nitrogen oxide by 85 per cent and carbon dioxide (a greenhouse gas) by around 20 per cent. The vessels are dual-classed by the Korean Registry of Shipping (KR) and DNV, with the latter providing the notation for the LNG fuel tanks.
The vessels' LNG fuel tanks each have a storage capacity of 1,600 m3, the largest LNG fuel tanks currently applied for a bulk carrier. Notably, the fuel tanks and hulls are constructed entirely of domestically produced steel.
Kyung Shin Yoon, Senior Engineer at HSHI Design Coordination, explains:
"For stable material supplies and market expansion, HSHI and steel-making company POSCO worked closely together and succeeded in applying domestically produced steel with nine per cent nickel for the LNG tanks, enhancing the quality of the material to meet the International Maritime Organization's (IMO) tightening standards."
The nickel/steel blend had been previously used only for land-based LNG storage facilities in Korea.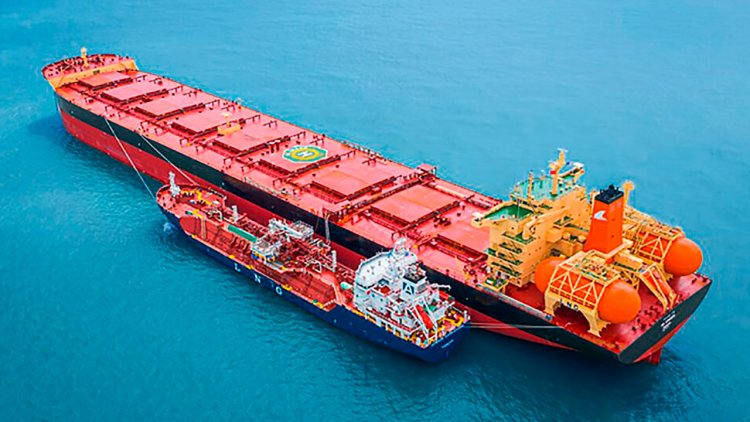 The two vessels are the result of a public–private partnership, built with the help of government funding from Korea Ocean Business Corporation as a part of a planned switch from conventional to eco-friendly designs, and supported by the Ministry of Oceans and Fisheries. According to H-Line, the construction of HL Eco and HL Green is expected to serve as a mutually beneficial development model for the domestic shipbuilding and steel industries.
HSHI's Yoon says:
"Throughout the design approval and construction stages, there were new challenges to be met due to these vessels being the world's first ocean-going dual-fuel bulkers with LNG tanks of this size. We are thankful for the support from DNV during the classification of the tanks and the practical assistance offered to HSHI to ensure an efficient design and construction process."
In one notable case, HSHI faced challenges in arranging a separate cofferdam area between the LNG tanks and the engine room compartments. The cofferdam arrangement was expected to lead to various cost and schedule impacts for material input, space loss and productivity.
Yoon reports:
"DNV's interpretation and optimized alternative allowed us to keep the as-built structural arrangement without a cofferdam, and to minimize the additional specifications. We are especially grateful to DNV for their broad technical support and collaborative attitude."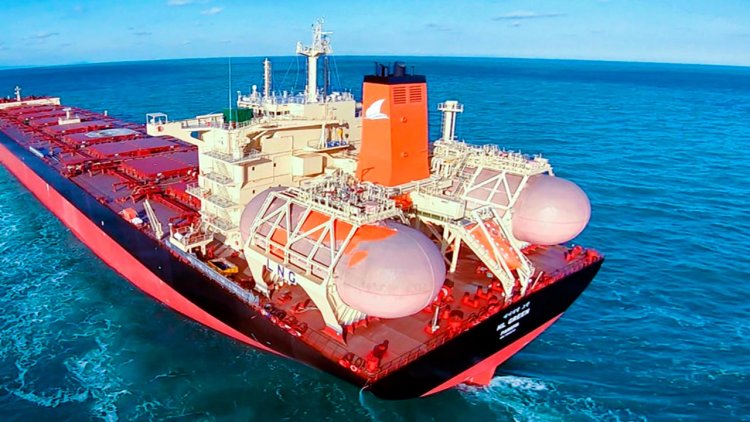 Source: DNV