Choules and Sycamore made first delivery of evacuees-by-sea from Mallacoota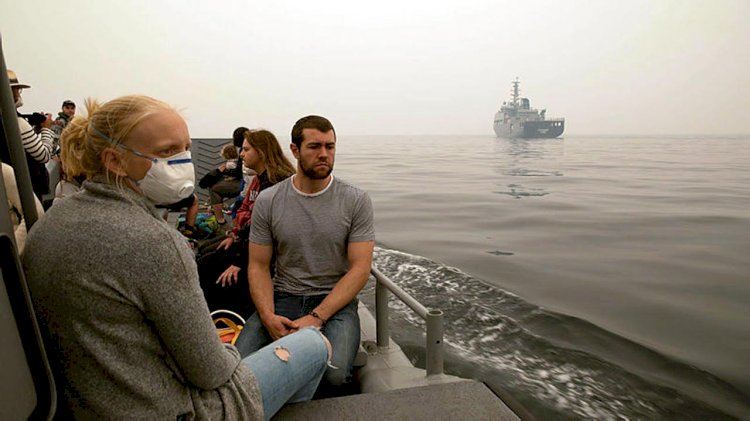 Photo: Royal Australian Navy
HMAS Choules and MV Sycamore are part of a Royal Australian Navy task group that departed from Fleet Base East early on New Year's Day, in support of multi-agency efforts to provide assistance to communities affected by bushfires on the Australian east coast.
Evacuation of residents and visitors of Mallacoota, Victoria, has commenced with over 1000 civilians embarking in HMAS Choules and MV Sycamore on 3 January.
Since arriving offshore of Mallacoota on 2 January, ships' companies of both vessels have been preparing to receive the people who chose to accept the opportunity to evacuate the area that has been devastated by the recent bushfires.
Choules' Commanding Officer, Commander Scott Houlihan, said that the embarkation was a key milestone achieved through close coordination with various government and non-government agencies.
Commander Houlihan said:
"Since arriving we have quickly and effectively integrated with counterparts from Emergency Management Victoria, Victoria Police, the CFA, the local council, Red Cross and other agencies.
The embarkation process started at around 8am, with people being moved from the community centre to the pier by buses provided by community members, and then moved across to the two ships using five landing craft embarked in Choules."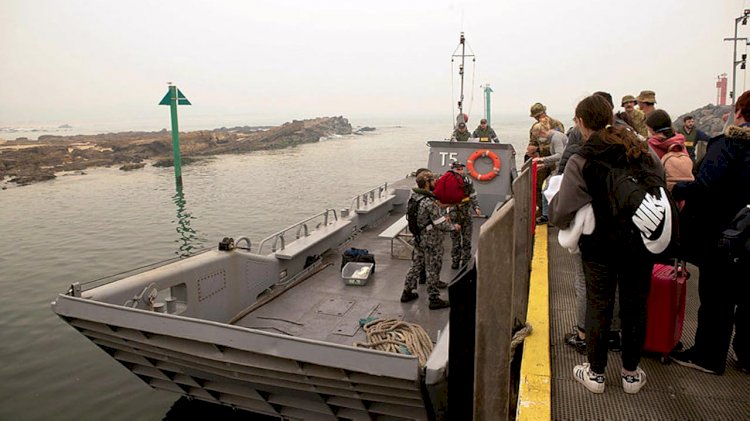 Executive Officer Lieutenant Commander Arron Convery oversaw the welcome of all evacuees on-board Choules. He said:
"The general spirit among of our guests has been one of appreciation mixed with relief to get away from the devastation, and the heavy blanket of smoke that has engulfed the region."
The first 58 evacuees-by-sea arrived at the Bluescope Steel Wharf in Hastings on 4 January 2020, delivered to safety by the Royal Australian Navy training ship MV Sycamore.
The ship HMAS Choules arrived in Western Port, Victoria on 4 January 2020, having evacuated 1117 residents and holidaymakers from Mallacoota. The transit to Western Port took about 20 hours.
Following the completion of the disembarkation, Choules' got straight back to work, working into the night to prepare the ship and load essential supplies and equipment that will be transported back to Mallacoota to assist in recovery efforts.