VIDEO: Wallenius Marine reveals the new design for the wind powered ship Oceanbird
Powered by wind, Oceanbird will transport 7,000 cars across the oceans with 90% reduced emissions compared to the most energy-efficient vessel today.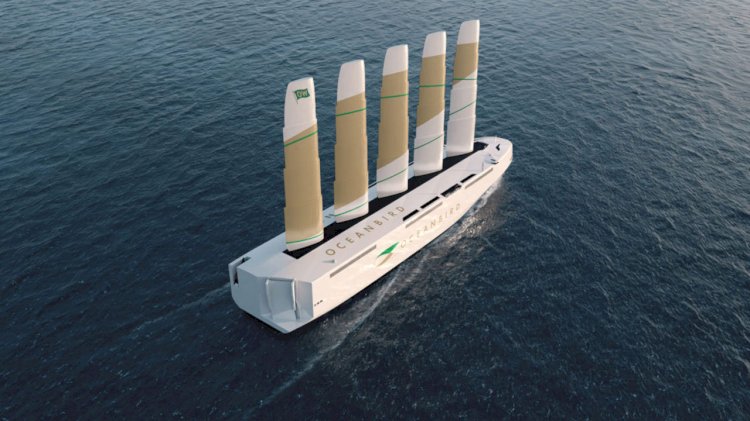 Photo: Wallenius Marine
The 200 metres long and 40 metres wide cargo vessel will be able to cross the Atlantic in 12 days.
The wing sails are all of 80 metres tall, giving the ship a height above water line of approx 100 metres, but thanks to a telescopic construction they can be lowered, resulting in a vessel height above water line of approx 50 metres. This comes in handy when passing under bridges or if the surface area of the wingsails needs to be reduced due to strong winds.
To be able to get in and out of harbours – and as a safety measure – the vessel will also be equipped with an auxiliary engine. Powered by clean energy, of course. The first vessel will be a cargo ship, but the concept can be applied to ships of all types, such as cruise ships.
Naval Architect Carl-Johan Söder says:
"Together with our partners KTH and SSPA, we will continue testing with the 7 metre models in basin and open water, during the fall. The design will be developed in different aspects as we continue to put in new data from tests in the simulations. This will also be an important platform to test and demonstrate the control algorithm for the wing rigs and hydrodynamic appendixes.
We are also lining up for the first round of seakeeping test in SSPA maneuvering basin from end of September. This will be unique tests where the model will be equipped with fans in order to capture both aero and hydro dynamic effects in model scale. So, all in all we are looking forward to a very intensive autumn with several exciting activities."