VIDEO: New ASN cable maintenance vessel ILE D'OUESSANT
In February 2019, ASN purchased an off-shore construction vessel the "TOISA Warrior" and converted the vessel for specialized cable maintenance operations and renamed the vessel "Ile d'Ouessant".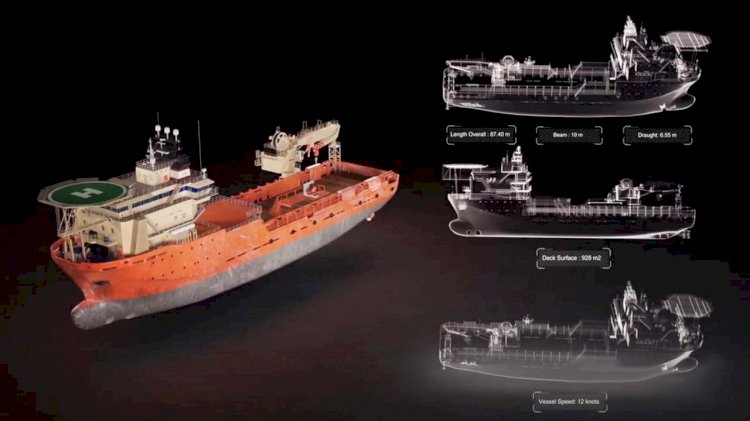 Photo: ASN
On purchasing the vessel (which was built in 2011) ASN conducted a detailed design and engineering phase which was carried out in parallel to the recommissioning of the vessel and its ancillary equipment.
The vessel was then relocated to a shipyard in Poland for the extensive retrofit program to install the specialized cable handling equipment and dedicated spread reconfiguration. This relatively new DP2 cable maintenance vessel offers a flexible and efficient resource for the submarine cable maintenance operations and is a clear commitment of ASN towards our Private Maintenance Agreement Customers.
Jeremie Maillet, VP Marine Operations, said:
"Whilst ASN had committed to the retrofit of the Ile d'Ouessant, Optic Marine Services agreed the subsequent purchase of the CS Peter Faber from ASN. This transaction was concluded on September 24th, 2019. Since that time, the Peter Faber has been chartered by ASN to continue with her Maintenance duties in the Atlantic region. This charter arrangement will conclude after the successful handover between Ile d'Ouessant and Peter Faber. It is our firm belief that the Ile d'Ouessant offers our customers a modern vessel, fitted with the most up-to-date equipment which is ready to face the unique challenges of the cable maintenance activity in the APMA zone."
Renamed Ile d'Ouessant as a reference to the great ASN cable layer family and the deep western French island, the vessel is intended to maintain submarine telecom networks in the Atlantic Ocean.