VIDEO: Navantia launches the first Corvette for Saudi Arabia
It has been several months of work in order to meet deadlines and deliver the last of the five corvettes in 2024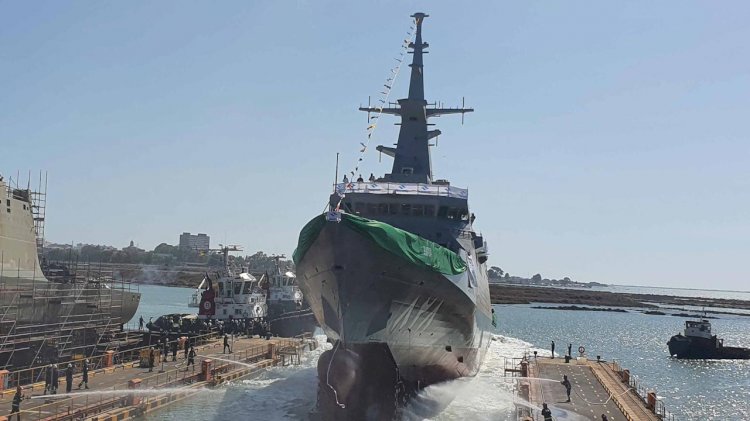 Photo: Navantia
Navantia has successfully carried out the launching of AL-JUBAIL, the first of five corvettes built for the Royal Saudi Naval Forces (RSNF).
The AL-JUBAIL has a length of 104 metres, a beam of 14 metres and will be able to accommodate 102 people (crew and additional personnel). It will reach a maximum speed of 27 knots and, among other aspects, it has the capacity to carry 21 days' supplies on board.
The corvettes are the latest generation of successful Navantia-designed combatants, and incorporate state-of-the-art Navantia products, such as the CATIZ Combat System, DORNA Gun Fire Control System, NAVCOMS/HERMESYS Integrated External and Internal Communications System, MINERVA Integrated Navigation and Bridge System, or COMPLEX-SIMPLEX Integrated Platform Management Platform together with equipment manufactured by Navantia under license such as the Leonardo SUPER RAPID 76mm main gun, Rheinmetall Air Defence MILLENNIUM 35mm close-in weapon system, MTU propulsion engines and diesel generators, and RENK gearboxes.
AL-JUBAIL, hull number 828, has been successfully built despite the slowdown in activity caused by the Covid-19 pandemic. In fact, the safety protocols for the launching ceremony required all attendees to have their temperature taken, wear a face mask and maintain the required safety distance.
For the follow-on sister ships, the objective is to recover time and meet the initial milestones, so that the second corvette can be launched in November 2020.