Unique Group launches next gen HBOT Facility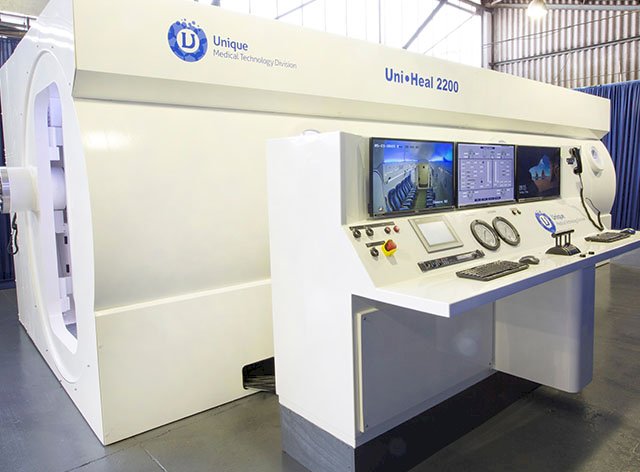 Photo: Unique Group
Unique Group proudly launches its in-house designed and manufactured multiplace hyperbaric oxygen treatment (HBOT) chamber to the healthcare market, thus offering a new proposition in hyperbaric treatment.
Originating within the diving industry - where they have been traditionally used to treat decompression sickness - HBOT chambers are worldwide used for the treatment of serious infections and wounds that will not heal as result of diabetes and radiation injury and other indications as outlined by the Undersea and Hyperbaric Medical Society (UHMS).
Based in the Netherlands, Unique Group's Medical Technology division specialises in the production of innovative hyperbaric equipment, from concept through system design to in-house fabrication. Unique Group also supports clients with the integration of the equipment in the hospital and providing training for the staff.
The manufacture of the Uni-Heal 2200 Hyperbaric Oxygen Treatment Facility has drawn upon over 25 years of Unique Group's cross-sector experience in the manufacturing of decompression chambers, medical treatment equipment and life support equipment used worldwide in the energy, civil and defence industries.
Highly customisable, the Uni-Heal 2200 is multi-accredited, including ASME VIII Div 1 PVHO-1 (USA Safety Standard for Pressure Vessels for Human Occupancy), ISO 13485, European 97-23 EC and 93-42 EEC and DNV-GL.
Sahil Gandhi, COO Unique Group, comments:
"Years of engineering expertise and close collaboration with hyperbaric specialists has gone into the design and manufacture of the Uni-Heal 2200, which can be equipped and customised to any specification – ranging from capacity and working pressure to patient lighting and seating, thus providing a bespoke turnkey solution to our clients.

The Uni-Heal 2200 represents an entirely new proposition in hyperbaric treatment facilities, a big congratulations to the team for its launch. We aim to work with our clients to ensure a smooth integration and ensure a positive patient and provider experience."