Terntank vessel uses shore power for unloading ops at Gävle port
Terntank has announced that its oil and chemical tanker Tern Fors recently conducted an unloading operation using shoreside electricity as the power source for the first time at the Swedish port of Gävle.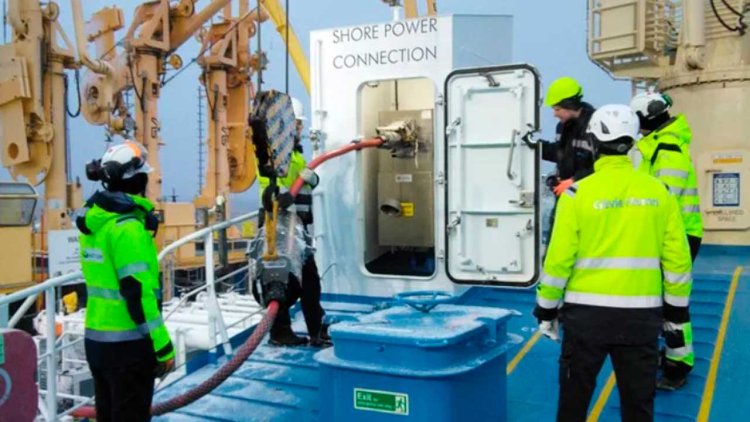 On Tuesday, a globally unique connection of the product tanker Tern Fors to shore power was carried out in Gävle harbor. The vessel was connected for over three hours and, for the first time, conducted an unloading operation using shore side electricity as the power source.
Years of preparation from both the port and Terntank culminated in a central and globally unique milestone on Tuesday when Tern Fors connected to the newly built shore power connection in Gävle harbor. The vessel was connected for three hours and carried out an unloading operation, the most energy-consuming operation for a tanker, as the vessel's own pumps had to be operated. A total of 1,424 kWh was consumed during the operation.
"It was a completely magical feeling at the moment when we switched to shore power. It felt like we were experiencing something groundbreaking," says Robert Friborg, the chief engineer on board Tern Fors.
Shore power for tankers is only available in one port in the USA for regular traffic, nowhere else in the world. Connecting tankers to shore power is complex due to a permanent risk of explosions when a tanker is docked in energy ports, as flammable products are pumped that can easily be ignited by electrical equipment. Gothenburg Port leads the Green Cable project with the aim of developing a new global standard for the electrical connection of tankers at the dock in a hazardous environment, together with classification societies, oil companies, shipping companies, the Swedish Transport Agency, and Gävle Port.
During the connection, the crew on board Tern Fors had direct contact with technicians from subcontractors in both Norway and China, while Gävle port had its electricians on site.
"We did encounter some challenges during the day, but we solved the issues that arose, made some adjustments, and then it went as planned," says Lennart Knutsson, the captain on board. Tern Fors tested the connection in Gävle in February of this year, but without connecting the power. Since then, various improvements and adjustments have been made, both to the onshore facility and on board.
"Now everything fell into place, and we were unloading completely without any auxiliary machines connected. If anything were to happen to the connection, we have batteries that kick in, ensuring that there is never a blackout on board," says Lennart Knutsson.
The vessel connects the cable amidships. The connection points, both on board and ashore, are in specially adapted environments. On the dock, the cable is in a container with overpressure with air to prevent any gases from entering. The small connection house on board the vessel is then filled with nitrogen to ensure it is under 5 percent oxygen so that nothing can explode if a spark occurs.
Evaluations are now awaited from both the port and the shipping company before Tern Fors, and also the sister vessel Tern Island, can connect next time.
"The next time we do it, it will probably go much smoother; now we know more about how the connection should be made and that it works as intended. Next time, it will likely be much quicker," says Lennart Knutsson.