TenneT investigates biodiversity improvement at North Sea cable intersections
TenneT starts a pilot designed to improve biodiversity at cable intersections in the North Sea.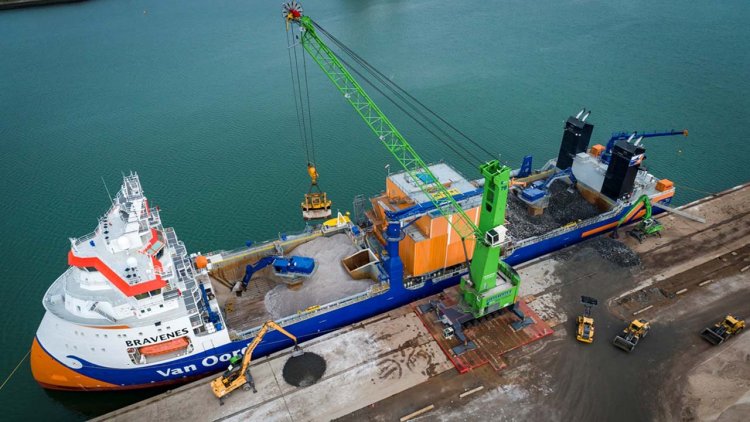 Photo: TenneT
In cooperation with offshore specialist Van Oord, different types of stone will be deposited at cable intersections to investigate which application best stimulates biodiversity.
In total, twelve sites are involved. At these sites, the recently laid undersea cable for future wind farms intersects existing oil and gas pipelines in the North Sea. TenneT aims to apply and monitor nature-reinforcing measures in all its offshore grid projects. TenneT will use the findings of this pilot to assess which measures improve biodiversity.
In the North Sea, TenneT is working on the high voltage connection for the Hollandse Kust (zuid) wind region. A total of four 220 kV cables will be laid from two transformer platforms (Alpha and Beta) to the Maasvlakte. The first two undersea cables were laid in the last months. At crossings with existing oil and gas pipeline, the cables rise above the sea bed. At these sites, a granite top layer is deposited on top of the cable to protect it.
Saskia Jaarsma, Head Offshore Developments and Large Projects Offshore at TenneT, said:
'TenneT is starting a pilot in which, in close cooperation with Van Oord, it will replace the granite top layer at three cable intersections with a calciferous stone originating from a marble quarry. The small calciferous stones will be applied to a total of three of the six intersections. This will enable us to assess the difference in the type of sea life that will emerge at these intersections in comparison to the intersections without small calciferous stones.'
On 14 October, the stones were loaded onto Van Oord's Bravenes subsea rock installation vessel in Vlissingen. The stones will be placed at the cable intersections over the coming weeks.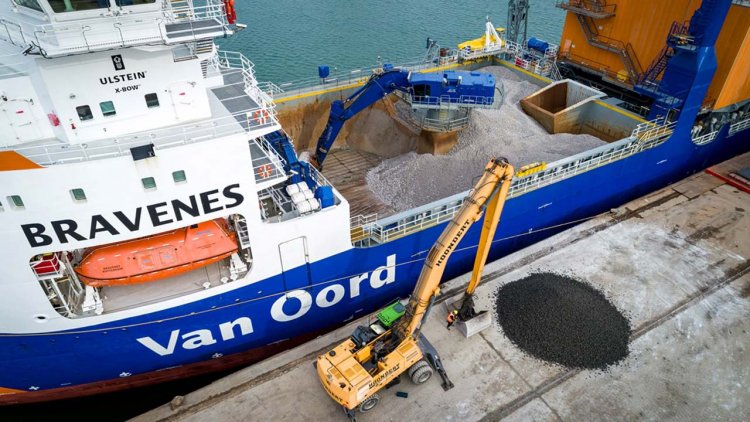 Jaarsma says:
"Our expectation is that the calciferous stones will ensure that various benthic species will find it easier to nest here and that a different habitat will emerge at these sites. Over the years, "artificial reefs" can emerge at these sites in the North Sea, where plants and small creatures can settle."
In 2021, Van Oord will install the second grid cable connection for Hollandse Kust (zuid) Beta. This connection will involve another six cable intersections.
Jaarsma says:
'Prior to the installation of this connection, TenneT wants to investigate whether it is feasible to fully remove the existing protective top layer of granite. If so, this would create even larger cavities between the stones, which would make it even more attractive for sea life to nest there.'
The Dutch government's target is to have an installed offshore wind energy capacity of 9.6 GW by 2030. TenneT, as the Dutch Transmission System Operator, is responsible for the high voltage connections for the offshore wind farms (Offshore Grid). TenneT will construct one or more platforms (sockets at sea) for every wind region and will install the offshore cable connection with the national high voltage grid. The first 1.4 GW was realised this year with the delivery of Borssele Alpha and Beta. TenneT is currently working on the construction of the cable connection for the Hollandse Kust (zuid) Alpha and Beta. TenneT aims to apply nature-reinforcing measures in all future Offshore Grid projects in order to retain and reinforce a healthy sea.