Sea Machines Presents on Topic of Marine Autonomy & Advanced Perception at SeaWork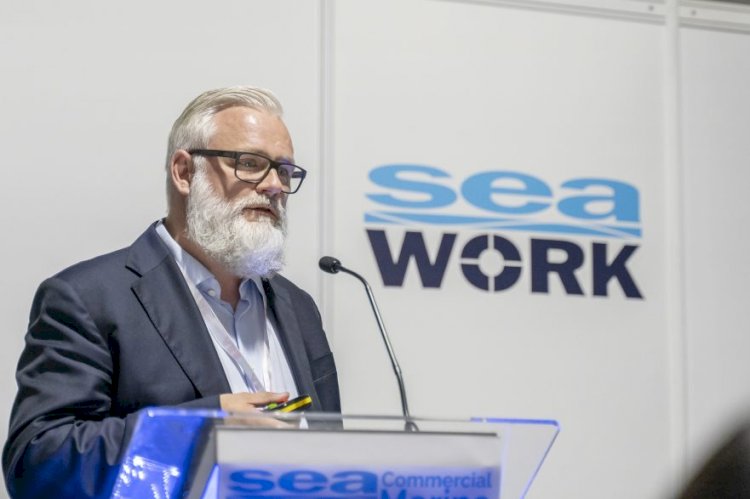 Photo: Sea Machines
During last week's SeaWork Commercial Marine Conference, in Southampton, UK, Sea Machines' Peter Holm, European director, spoke on the subject of "Ubiquitous Marine Autonomy with Advanced Perception Technology."
His presentation focused on the initial results and performance of Sea Machines' perception technology currently being used aboard a Maersk container ship in Denmark.
He explained that as the commercial marine industry demands higher levels of autonomy, the need for advanced perception capabilities will increase considerably. Holm then outlined the ways that Sea Machines' customers, which include owners and operators of all types of marine surface vessels (from workboats through large ships), are benefiting today from the company's commercially available, autonomous control technology.
Sea Machines Robotics, Inc., an autonomous technology company, builds autonomous control and navigation systems for the commercial marine and boating industries. It develops advanced control systems for boats and ships, and specialized unmanned surface vessels to enhance operational safety and productivity on the water.
The company builds RC NXT, an autonomous control and remote command system for PLC-based wireless control of vessel in existing or new build marine vessels, such as work boats, tugs, and launches; and DP-NXT autonomous control system that upgrades traditional manually piloted vessels to be operated with a reduced or zero on-board crew. It offers solutions for various unmanned applications, such as unmanned bathymetric survey vessels, AUV-tender, unmanned visual inspection of subsea assets, mobile unmanned passive acoustic monitoring, and dual towing. The company was founded in 2014 and is based in Boston, Massachusetts.
Sea Machines systems feature advanced security measures that protect both hardware and software from external vulnerabilities. The hardware components operate with encrypted software, and VPNs are used to protect the customer's network connection.
While the exact regulations are still being developed, the International Maritime Organization (IMO) has officially commenced work to look into how safe, secure and environmentally sound Maritime Autonomous Surface Ships (MASS) operations may be addressed. As progress is made, Sea Machines is fully engaged and cooperating completely to ensure customers meet or exceed with industry requirements.