Opinion: The digital transition is well underway, but there is still untapped potential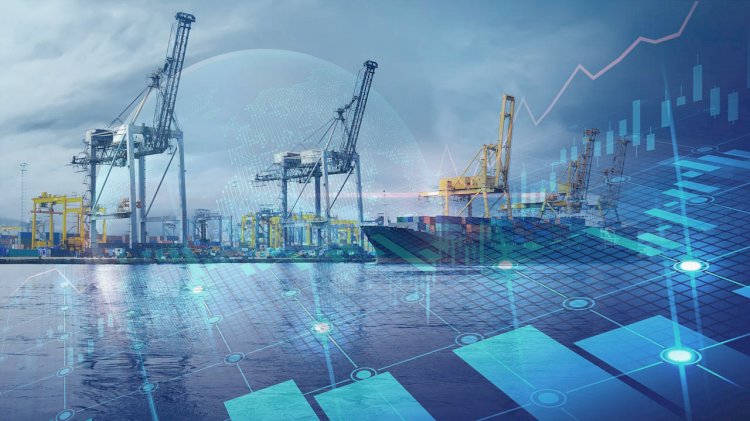 The digital transition of the maritime sector is well underway, according to Lotte G. Lundberg, Executive Secretary of the Danish Maritime Fund. However, she believes there is still untapped potential and would like to help the maritime sector in Esbjerg more.
The maritime sector has been accused of not keeping up with the digital transformation; indeed, it has had a reputation of hanging on a little too tightly to the analogue world. However, the reality is very different, promises Lotte G. Lundberg, who is the Executive Secretary of the Danish Maritime Fund, in an interview for the port of Esbjerg.
The fact is that the Fund has supported a wide range of initiatives and measures within digitalisation. Lundberg highlights particularly the development within the use of drones which have also been introduced at the port of Esbjerg.
What is currently happening with digitalisation in the maritime sector and at the ports? And what does the near future hold? Lundberg provides a progress report and a glimpse into the crystal ball which hides huge potential for, for example, the ports and the companies located there.
- What is the general situation regarding digitalisation in the maritime sector?
At the Danish Maritime Fund, we stay well abreast of trends within both maritime research and business development, because many project managers come to us for funding. I can therefore confidently say that the digital transition of the maritime sector is well underway. Over the last few years, we have supported many projects addressing digitalisation in its broadest sense. In relation to port activities, we have particularly seen projects on automation using robotic and drone technology.
- What sort of development have you witnessed in recent years?
Obviously, not everything in the industry passes by our desk but we have provided early stage loans for many start-ups. Some started with a fledgling idea and got to proof of concept – others even as far as the market maturation process and subsequently to receiving funds from both public and private investors. The projects represent a broad spectrum of technical, operational and commercial activities that may be solved digitally.
For example, DanaDynamics developed a maritime drone for hydrographic surveying with funds from, initially, the Danish Maritime Fund and subsequently also from Innovation Fund Denmark and Syddansk Innovation, among others. In June, the drone was launched in Svendborg, and the innovative project became a highly visible product which has already been hailed as a very useful concept by many ports within the country. Another project which we have supported financially on more than one occasion is the research undertaken by the drone company Upteko which is developing autonomous drones that can provide support in many different contexts, such as dockings, man-overboard situations and inspections. A third project which I would like to mention is the brainchild of SubSea Robotics which has developed an underwater robot to clean ship propellers. This is also a project where we supported both the prototype and the further development.
- What role do the ports play in this development?
In many ways, the ports play an important role in the technological development. The ports know their customer portfolios on the harbour and can encourage collaborations within innovation. Based on my own experience as a board member of a couple of Danish ports, I know that ports have a unique opportunity to clarify the need for infrastructure through knowledge sharing and building networks and to generate business opportunities for all stakeholders in and around the ports.
- Do you see any specific potential within digitalisation at Port Esbjerg?
For many years, Port Esbjerg has been running a profitable business, providing services for the companies at the port whose core competencies are within the energy sector, both fossil and renewable. However, all things maritime are also wound up with the DNA of this place. Perhaps one might be able to foster even more entrepreneurial spirit by offering a setting around a maritime start-up hub with a view to supporting maritime growth? At the Danish Maritime Fund, we would certainly welcome many more applications from Esbjerg.
- 2020 is just around the corner and if you consult the crystal ball, what do you see happening in the future? Do you see any prominent trends within digitalisation in the maritime sector and at the ports?
When you operate in a mature sector, it is crucial that the players continue being competitive and attractive to their customers. This means that we must constantly increase our focus on streamlining, optimising, automating and digitising processes that are currently analogue. With regard to activities at ports, there are probably still endless opportunities for digitising and automating physical activities relating to port operations. However, just like we as private individuals expect to be able to bank, purchase goods and access citizens' services online, customers in the maritime sector also expect digital customer service. Therefore, the players need to prioritise even more the transition to commercial digital platforms in order to improve the customer experience and to meet customers' expectations and reward their loyalty. I know it can be difficult for ports to achieve that. After all, ports are – and will always be – providers of physical infrastructure and in itself, that would be rather hard to digitise. However, ports are also archives of inconceivable amounts of data which may be used to support customers and suppliers. No matter what, there are definite prospects in securing a good digital interface with customers, network-oriented digital communication with players at the port and digital marketing on all platforms to reach beyond national borders.
- Does digitalisation also have a role to play in relation to the climate issue?
It is quite clear that we cannot get away from addressing the problems of climate change when discussing the major issues of the maritime world. The ambition to become CO2-neutral is a huge challenge facing the maritime sector. The Danish maritime industry has set very ambitious targets on this. Therefore, all efforts are directed at research into and development of the fuel of the future.
For ports, it is a question of positioning themselves to provide CO2 targets of their own, supporting customer demands for a reduced climate footprint. Port Esbjerg is already well positioned with regard to a future with green shore-side electricity. However, the green transition will require knowledge. And knowledge is also about data. So once again, it will depend on digitalisation.
- As a fund, what will be your areas of focus in relation to digitalisation in the coming years?
The objective of the Danish Maritime Fund is to strengthen and contribute to shaping the future Blue Denmark. We focus particularly on initiatives within future ways of automating and digitising processes. This applies particularly to activities of a physical nature. However, there may also be a special need for creating platform solutions to support future ways of running a digital shipping business.
As a new departure this year, we have introduced yet another qualification requirement for applications. The reason is that we believe that we are well placed to support one or more of the UN's 17 Sustainable Development Goals.
Our fund was established to bring growth to Danish shipping, the Danish shipbuilding industry and associated equipment production. And we would like to distribute the funds to all corners of the country. Therefore, we would certainly welcome many more applications from Esbjerg. We would strongly welcome and support brilliant ideas that would help the Danish maritime industry retain its position as market leader. Thus, we are very happy to support entrepreneurs, but mid-sized/large companies are also very welcome, if for example, their innovation departments are struggling with maturing an idea and advancing it to a stage where it can be approved by the management and board who may primarily be focused on day-to-day operations, return on investment, cash flow and balance sheet items.