Norwegian company launches the world's first ocean offshore fish farm
As a full-scale pilot facility, Ocean Farm 1 is designed to test out both the biological as well as the technological aspects of offshore fish farming.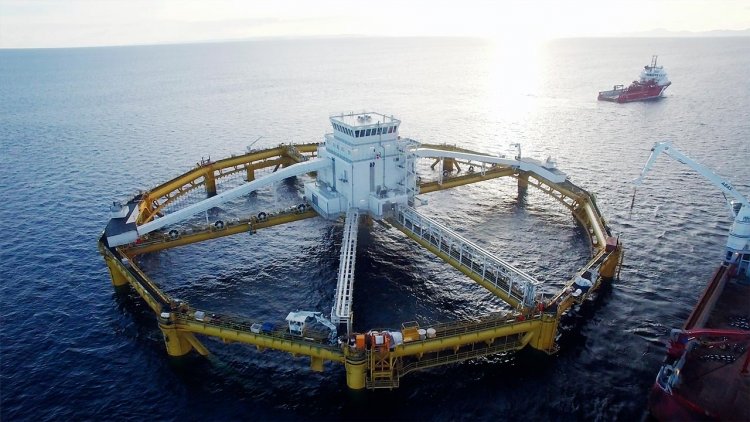 Photo: Ocean Farm 1
Ocean Farm 1 – the world's first offshore fish farm – has now arrived at Frohavet. It may represent the first step towards a new era in aquaculture.
Based on world-class Norwegian aquaculture and offshore technology, Ocean Farm 1 aspires to address central issues related to sustainable growth in the aquaculture industry.
Within 2030, the world needs to produce 70% more food, and we need to do so using less resources and with a minimal environmental footprint. While oceans cover more than two thirds of the world's surface, only 2% of the food energy for human consumption comes from the sea. Producing animal protein from aquaculture takes less resources and is friendlier to the climate compared to livestock. Since traditional fisheries are almost fully exploited, increased aquaculture production needs to play a major part in efforts to feed future generations.
The Norwegian Ministry of Fisheries and Coastal affairs recently decided to award development licenses for aquaculture purposes. The objective is to spur new technology concepts that can ensure sufficient growth whilst also ensuring environmental sustainability. The Ocean Farm project is an answer to this the challenge, and SalMar was the first seafood producer in Norway to be awarded this type of development license.
Behind the project is an interdisciplinary partnership between world-leading players in Norway within aquaculture, offshore and research. The result is a structure built on the technology and principles used at submersible offshore installations, while safeguarding the biological needs of the salmon. When developing technical solutions, every fish farming process has been considered, and new approaches are established for the various operating procedures. The structure complies with the aquaculture industry's own fabrication standards, as well as relevant offshore oil and gas standards. Ocean Farm 1 is built by the China Shipbuilding Industry Corporation (CSIS) in Qingdao, China.
The conclusion of the construction project is a significant milestone for SalMar, but the real work starts now. Ocean Farm 1 is a full-scale pilot facility for testing, learning, research and development. It will be equipped for R&D activities, with particular focus on biological conditions and fish welfare.
The company behind Ocean Farm 1 is Ocean Farming AS, a subsidiary of the SalMar Group. Ocean Farming was established specifically to develop an offshore fish farming capability.
Key dimensions Ocean Farm 1:
Height: 68 m
Diameter: 110 m
Volume: 250,000 m3