Next submarine was commissioned within Indian Navy
Commissioning of INS Vela, the fourth Kalvari-class submarine entirely made in India based on Scorpene® design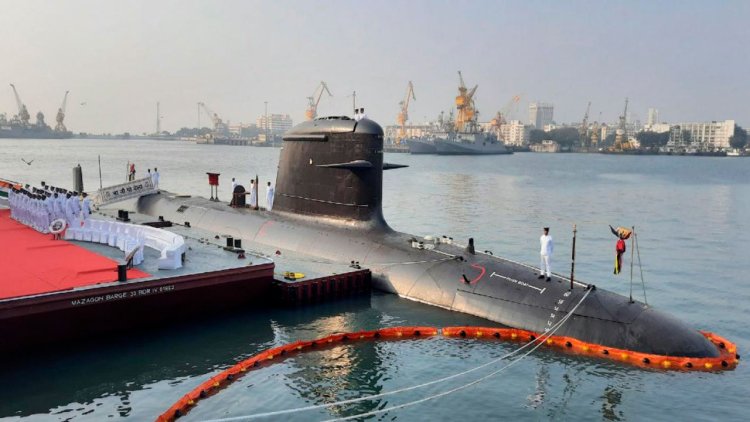 Photo: Naval Group
On 25 November 2021, INS Vela, the fourth P75 Kalvari-class submarines, was commissioned within Indian Navy.
INS Vela is built by Indian shipyard MDL based on the Naval Group Scorpene® design and is the second Kalvari-class submarine to be commissioned in 2021.
Launched on 6 May 2019, INS Vela successfully completed all major sea trials including weapon and sensor trials, despite Covid restrictions, and was delivered to the Indian Navy on 9 November 2021. She joins INS Kalvari, Khanderi and Karanj which were commissioned respectively in December 2017, September 2019 and March 2021.
This submarine has been completely built by Mazagon Dock Shipbuilders Limited (MDL) taking advantage of the successful technology transfer from Naval Group during the construction and trials of the first three boats. Six submarines of the P75 program have been fitted with a number of equipment, built in India by qualified and highly trained industrial Micro, Small & Medium Enterprises (MSMEs) which form the sound base of submarine building ecosystem of India.
Alain Guillou, EVP International Development at Naval Group, said:
"I would like to congratulate our partner MDL and the teams of Naval Group for the successful delivery of the fourth Scorpene® submarine to the Indian Navy. Naval Group is very proud to be part of the P75 Kalvari program which is a major component of the long-lasting Indo-French partnership. We are committed to significantly enhance the level of indigenisation in future projects of the Indian Navy by building upon and nurturing the know-how and skills in India."
The Scorpene® is a 2000 tons conventional-propulsion submarine designed and developed by Naval Group for all types of mission, such as surface vessel warfare, anti-submarine warfare, long-range strikes, special operations or intelligence gathering. Extremely stealthy and fast, it has a level of operating automation that allows a limited number of crew, which reduces its operating costs significantly. Its combat edge is highlighted by the fact that it has 6 weapon launching tubes, 18 weapons (torpedoes, missiles, mines).