Lhyfe, DORIS team up on landmark wind-to-hydrogen initiative
The first prototype is expected to be complete in 2025.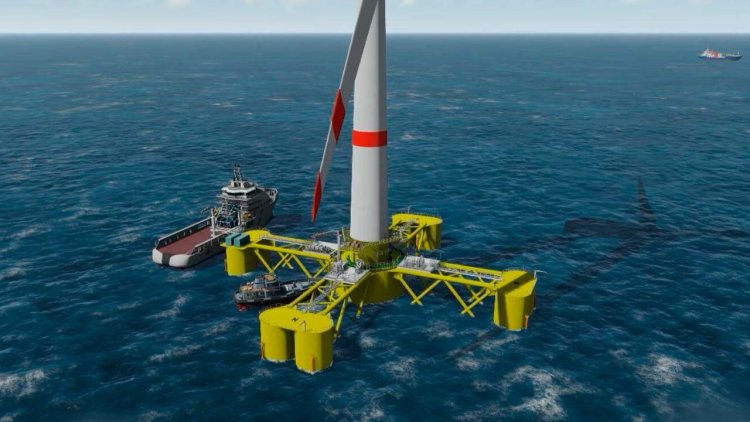 Photo: Lhyfe
Lhyfe and DORIS want to develop what they say will be the first floating wind turbine for integration with a hydrogen production system, as they look to develop viable offshore green hydrogen production solutions to support a clean energy transition.
The duo today inked a Memorandum of Understanding (MoU) to become official partners for the effort which hopes to also identify larger-scale opportunities for offshore hydrogen production.
To do this, the partnership will utilise Lhyfe's Nerehyd™ solution which incorporates a hydrogen production facility into the floater of a wind turbine. Already, this solution is producing hydrogen at the company's Bouin production site in Vendée, France.
Matthieu Guesné, CEO and founder of Lhyfe, added:
"We are delighted to be moving forward on our projects with DORIS. At Lhyfe, the reason we located our first production site near the ocean was to start producing in offshore conditions, because from day one we have been certain of one thing: offshore is the key to the massive development of renewable hydrogen.
"We are starting to see more and more offshore wind farms and traditional players are keen to find ways to scale-up their infrastructures and solutions. We are therefore very optimistic about the development of this sector and are working to offer a range of solutions to adapt to each situation."
It is believed the entire budget for the Lhyfe and DORIS project, including research and development (R&D) and the production of the first prototype, will be approximately €60m. The first prototype is expected to be complete in 2025.
Xavier Grandiaud, Executive Deputy Managing Director of DORIS Engineering, said:
"While we have no doubts that producing green hydrogen on land will be the first step in large-scale global development, we deeply believe in the need to move more rapidly offshore to meet the strong demand ahead, which will require a massive amount of electricity.
"With Lhyfe, we believe that offshore production will be the best way to successfully produce large amounts of green hydrogen without impacting terrestrial landscapes or relying on an existing grid connection. Our Nerehyd™ solution is the perfect tool for large-scale, sustainable and economically viable green hydrogen production."