Hydro Group technology enables successful floating wind turbine test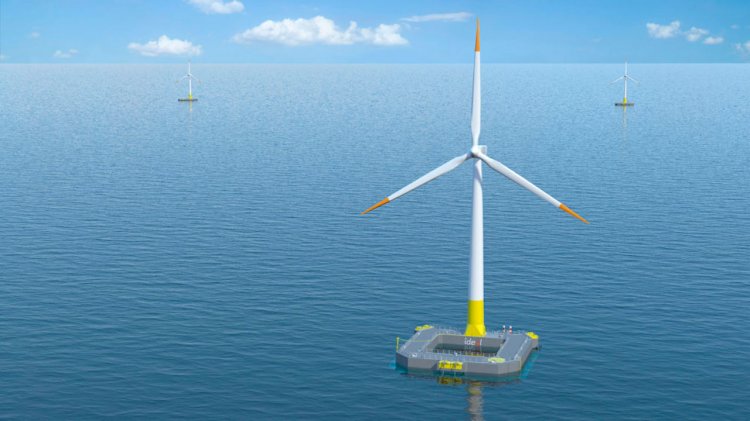 Photo: Hydro Group
An innovative floating wind turbine utilising Hydro Group connectivity is ready for commercial applications, following site tests which saw it generate 2.2GWh of electricity and face wave heights of up to 6.2m during the first half of 2019.
The Floatgen Vestas V80 turbine, located in the SEM-REV marine renewable energy site off the coast of Le Croisic, France, uses subsea cable and connector specialist Hydro Group's Hydro Renewable Connector (HRC) and Power Distribution Hub (PDH).
Hydro Group and regional partner Wenex Equipements developed and provided other equipment for the installation, including connectors, hub, dynamic cable and cable hang-off.
The SEM-REV installation is capable of connecting any device cable to the export cable with a 24kV variant of the Scottish firm's HRC. In addition, a custom-designed PDH enables reliable in-line connectivity for multiple devices in harsh Atlantic seawater conditions.
Ian Walters, Head of Engineering at Hydro Group plc, said:
"All of us at Hydro Group are proud to see that our equipment has enabled the turbine to export reliable electricity. According to turbine operator Ideol, average availability in the second quarter of 2019 alone has been above 90%. The SEM-REV project has been a great opportunity for us to demonstrate the performance and reliability benefits of our subsea connectivity products in a top-tier marine renewable energy project. These tests have shown that our HRC and PDH technologies can play their part in the success of floating offshore wind thanks to their long design life of 20 years, anti-corrosion capabilities and sturdy construction."
Hydro Group successfully completed their scope of work on their £2.5m contract in only seven months, with the help of their French market business partner.
Benoit d'Alançon, Director General of Wenex Equipements SA, added:
"The performance of the Floatgen turbine during its recent tests is good news for the partnership between Hydro Group and Wenex Equipements. Once our tender was accepted, we were rapidly able to design, manufacture and test a custom solution to ensure our technologies would feature in connecting France's first offshore wind turbine to the national grid."
Floatgen is developed by floating wind organisation Ideol and constructed by an international consortium.
The SEM-REV site, in which Ideol's Floatgen floating wind turbine has been installed, is operated by École Centrale de Nantes.
Hydro Group's connectivity solutions were deployed on site under the guidance of Entreprise Travaux Publics de l'Ouest (ETPO).