Giant hospital vessel: unique construction experience and new job opportunities
"Mercy Ships", an international charity, prepares to commission its new ship the Global Mercy.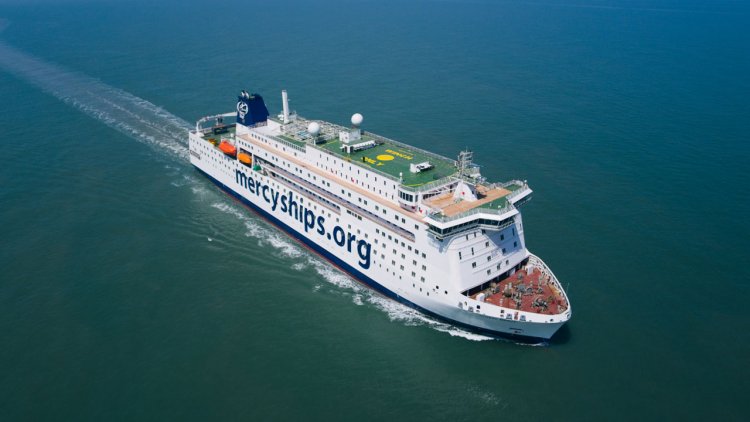 Photo: Mercy Ships
This is the world's largest civilian hospital vessel and it has been created specifically for charitable purposes. What else makes the new ship different, what is the process like to build a custom hospital ship and is it possible to get a job here?
Extending the fleet with a new purpose-built vessel
The Global Mercy will make its maiden voyage in the near future. First of all the vessel is going to visit the Port of Antwerp (Belgium) and then to go to sub-Saharan and Central Africa, where another hospital vessel the Africa Mercy has been located for a long time. Thus, two Mercy Ships will operate in this region together.
Their main task is to provide adults and children with various medical care, including surgical. All the necessary operations take place right on board, so the equipment and functionality of the vessels must be at a high level.
For 30 years of its existence, "Mercy Ships" has been solving this issue by renovating usual ships to serve with medical and healthcare missions. As older vessels, the earlier three, the Anastasis, Caribbean Mercy and Good Samaritan have been retired, with the Africa Mercy taking over from the Anastasis in 2007. The sixth ship Global Mercy will be the charity's first purpose-built hospital vessel.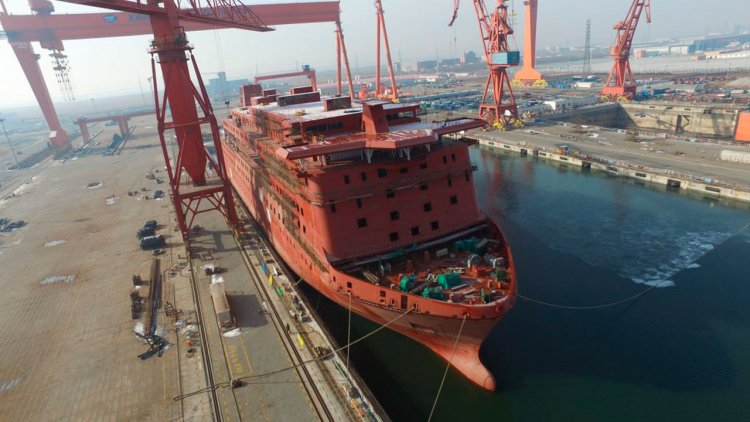 Jim Paterson, Marine Executive Consultant, said:
"In 2007, the initial ideas and planning began once the Africa Mercy was in service. During the process of designing and converting the Africa Mercy, we realized there would always be a series of limitations and constraints that come with ship conversions. When it came time to begin the design process for the Global Mercy, we began by conceptualizing an ideal hospital ship based on our observations and field experience. The conclusion? A much larger vessel. After a series of internal conversations and a vote by the Board, the new ship was approved. From there, construction for the Global Mercy was brokered, the contract with the shipyard was signed in December 2013 and the first steel cut took place in September 2015."
The Global Mercy has a design draft of 6.15 meters and a service speed of 12 knots. The 174-meter, 37,000 ton-ship, will feature the hospital with two decks and all of the amenities of a general hospital on land, including six operating rooms, a CT Scanner, fully equipped laboratory, and more.
The Global Mercy will also be outfitted with state-of-the-art training spaces including two simulation labs with virtual and augmented reality, mannequins and other training tools.
It is designed to have a smaller shore side footprint with more of the activities able to take place on board – for example pre-and post-op checks and rehab appointments. Theoretically this means a faster deployment and pack up when moving from one location to another.
The Global Mercy has already completed deep water sea trials, one of the final milestones in the countdown towards the hospital ship's delivery, equipping, maiden voyage and launch into service in 2022.
How to get a job at the Global Mercy?
"Mercy Ships" provides surgeries at no charge to patients receiving services onboard ship. Their model has always involved volunteer professionals from around the world. Volunteers pay for their transportation to and from the ship's location, immunizations, travel insurance, as well as monthly crew fees and all personal expenses.
Crew fees vary depending on the length of commitment as well as the volunteer's country of residence. On average, the Africa Mercy crews 400 people. On a normal year, more than 1200 volunteers from more than 60 nations serve onboard.
There are over 200 jobs onboard, and only half of them are medical. "Mercy Ships" accepts applications for volunteers from many fields and backgrounds to serve from several weeks to months to years. Those include:
Technical & Skilled Positions:
Mechanic, Plumber, Electrician, Sheet Metal Worker, Captain, Electronics Technician, Chief, Second, Third Officer, Chief, Second, Third, Fourth Engineer.
General:
Receptionist, Hospitality Staff, IT Support Specialists, Photographer, Videographer, Catering & Food Services, Hairdresser, Teachers – primary & secondary.
Medical:
Decontamination Technician, Sterile Services Technician, Biomedical Engineer, Paediatric Ward Nurse, Paediatric ICU Ward Nurse, Hospital Informatics Manager, Speech Therapist.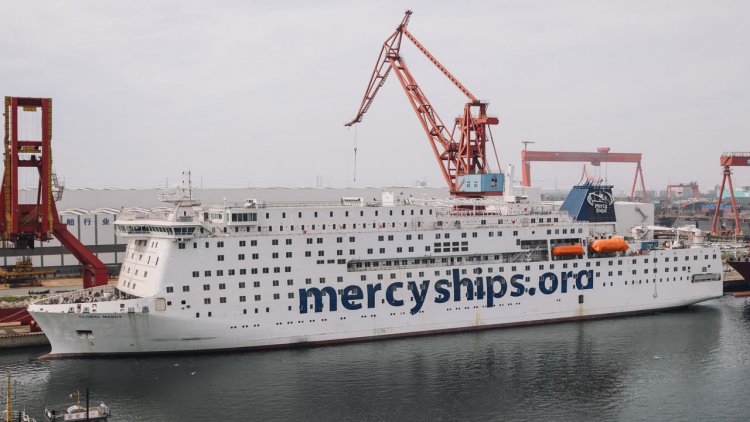 When fully deployed, the Global Mercy™ will have up to 641 crew, with capacity to host more than 950 people while in port.
On occasions when critical staffing is required and volunteer maritime crew are not able to be found for all positions (for a sail for example), "Mercy Ships" sometimes contracts for additional assistance through agencies like Northern Marine on a short-term basis.
All technical crew should have a current certificate of Basic Training (BT) according to STCW standards. For licensed crew members, a valid certificate of competency is required, in addition to the other position-specific requirements as listed on the job descriptions.
For those interested in a maritime career but without the experience, "Mercy Ships" can provide entry-level crew with basic maritime training, including STCW 95 Basic Training (BT)(US Coast Guard Standards), and Watch Rating training for both deckhands and engine hands (Maltese certificate).
The Mercy Ships Maritime Training Program also offers training to 150 crew members and staff each year. This innovative training program ensures that deck crew are fully qualified to International Maritime standards and fully licensed.
For Medical Crew Mercy Ships requires at least 2 years of post-licensed experience before volunteering for most medical positions in the hospital.
For a current list of opportunities, please click here.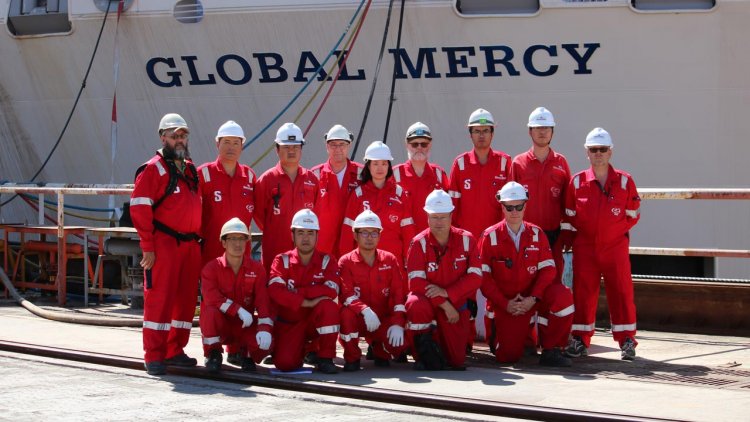 Fast facts
The number of personnel required to serve one ship:
Africa Mercy - 400 crew at any given time.
Global Mercy – crew capacity is 641 when it is be fully deployed.
"Mercy Ships" vessels have visited 594 ports, covering 55 developing nations. Its volunteers have provided services and materials in developing countries valued at over $1.6 billion.
"Mercy Ships" has delivered services to more than 2.8 million direct beneficiaries and "Mercy Ships" volunteers have performed more than 105,500 free surgical procedures, such as cleft lip and palate, cataract removal, burn contracture release, and orthopedic and facial reconstruction. They have:
Performed 488,000 dental procedures for over 186,500 dental patients.
Trained more than 6,600 local professionals (including surgeons), who have in turn trained many others.
Trained over 49,000 local professionals in their area of expertise (anesthesiology, nursing, sterilization, biomedical engineering, surgery, trauma, leadership).
Taught over 252,000 local people in basic healthcare.
Completed over 1,110 infrastructure development and agriculture projects.