First offshore wind turbine installed at South Fork
130-Megawatt Project Will Generate Enough Renewable Energy to Power Approximately 70,000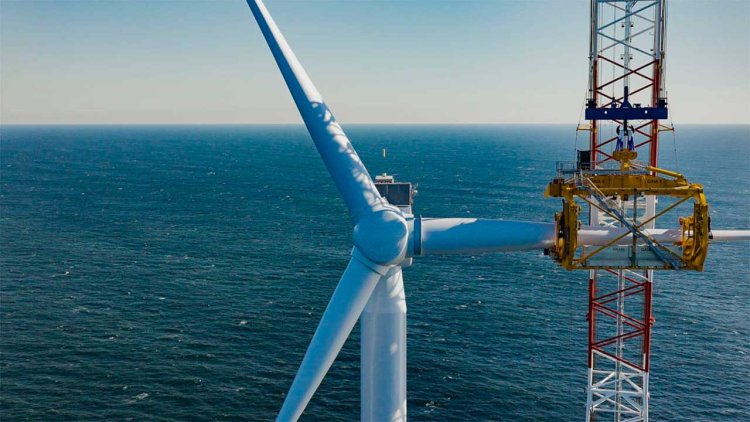 Photo: Ørsted
Governor Kathy Hochul announces the completed installation of the first offshore wind turbine for South Fork Wind, a historic milestone for New York's offshore wind development and what will be the first completed utility-scale wind farm in the United States in federal waters.
Once completed, the 130-megawatt offshore wind farm will address a growing reliability challenge for Long Island's electrical grid, while also generating enough renewable energy to power approximately 70,000 Long Island homes, eliminating up to six million tons of carbon emissions, or the equivalent of taking 60,000 cars off the road annually over a 25-year period. The announcement supports progress towards the State's Climate Leadership and Community Protection Act goal to install nine gigawatts of offshore wind by 2035.
The first of South Fork Wind's 12 Siemens Gamesa wind turbine generators was hoisted into place by the offshore construction team at the project site 35 miles off Montauk, N.Y. Hundreds of U.S. workers and three Northeast ports have supported South Fork Wind's construction, helping to stand up the foundations of a new domestic supply chain that's creating local union jobs across the Northeast. All 12 turbines are expected to be installed by the end of 2023 or early 2024.
First approved by the LIPA Board of Trustees in 2017, South Fork Wind began construction in February 2022, beginning with the onshore export cable system that links the project to the local energy grid, which was completed early this year. The wind farm reached its "steel in the water" milestone in June 2023 with the installation of the project's first monopile foundation.
Van Oord's offshore installation vessel, the Aeolus, is installing the turbines. Turbine installation involves using a crane to place the steel turbine tower onto the foundation. The nacelle and rotor are then installed on top of the tower. Lastly, the blades are lifted and installed one by one by bolting them to the rotor.
Once in operation, South Fork Wind will be supported by U.S.-built crew transfer vessels and eventually by America's first offshore wind Service Operations Vessel.
County Executive Steve Bellone said,
"The installation of South Fork Wind's first wind turbine is a significant step towards a cleaner and more sustainable future. Alongside the wind developers, New York State and local stakeholders, we are demonstrating our collective resolve to combat climate change and protect our natural resources for generations to come."
East Hampton Town Supervisor Peter Van Scoyoc said,
"I am pleased to see that South Fork Wind has now reached another important milestone toward providing thousands of homes on the South Fork with clean, renewable, wind-generated energy."
Long Island Federation of Labor President John R. Durso said,
"Construction of the South Fork offshore wind project is a historic achievement for New York State and Long Island. Our union movement knows all too well the demands placed on working people in the wake of natural disasters, which are occurring with increased frequency due to the climate crisis we are all forced to endure. After years of planning and advocacy, we must mark the milestones of today and continue to build momentum for the projects still to come. This region is building New York's first offshore wind farm addressing the crisis head on. Development of unionized, green jobs in the process will strengthen our communities and offer long-lasting careers to a new generation of workers."
New York State Building Trades President Gary LaBarbera said,
"Offshore wind projects, like South Fork Wind, are crucial not only in New York's standard-setting pursuit of a commonsense clean energy transition, but the creation of thousands of family sustaining careers for hard working New Yorkers. This is why we welcome this historic milestone and applaud Governor Hochul and NYSERDA for their steadfast commitment to this project that will act as a spark plug for our green economy and the revival of our middle class."
Building and Construction Trades Council of Nassau and Suffolk Counties President Matthew Aracich said,
"The Empire State is about to establish a new alternative to conventional methods used to power Long Island with Offshore Wind. Instead of burning fossil fuels Orsted and Eversource will harness the power of wind, delivering 132 megawatts of clean green energy powering 70,000 homes."