Enova backs Viasea's hydrogen ship investment
Enova is funding NK171.8m to Viasea Shipping for the acquisition of two hydrogen-powered container ships.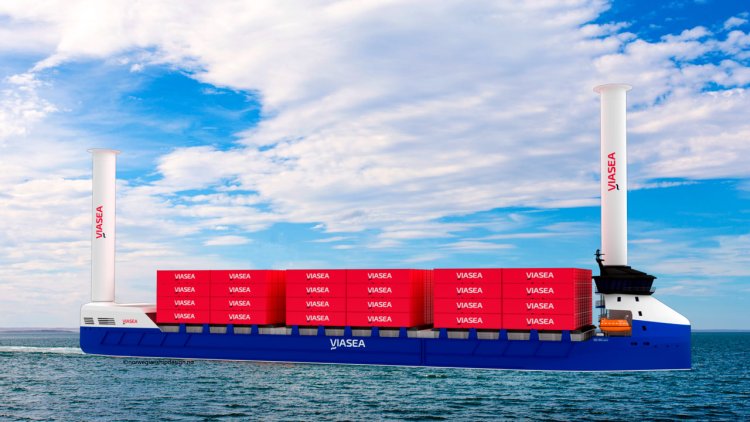 Enova, a Norwegian government enterprise, tasked with speeding the low-emission transition has granted NOK171.8m (about €14.4m) for constructing two container carriers to run on (green) hydrogen.
Initial hydrogen bunkering is planned to take place in Norway. Once hydrogen becomes available in other locations served by Viasea Shipping, the Norwegian shipping line intends to sail on hydrogen only. On the onset, a mix of hydrogen and diesel will be used, resulting in a 75% lower footprint vs a diesel vessel, according to Viasea Shipping.
Additionally, the carriers will be equipped with rotor sails.
The Norwegian Ship Design Company has been tasked with providing the ship concept. The design will be based on the modified Powered by Nature blueprint (an 88 m long, 5,500 dwt self-discharging bulker) created for Egil Ulvan Rederi.
"We believe that advanced green hydrogen technology will revolutionize maritime transport in Europe, resulting in zero emissions. Since the founding of Viasea Shipping seven years ago, the goal has been to deliver more sustainable transport to the market. First as a greener alternative to road transport and now with a focus on zero-emission maritime transport in Europe. This is our first step," commented Morten Pettersen, Viasea Shipping's Managing Director.
Rohit Sharma, Sustainable Advisor, Viasea Shipping, ColliCare Group, added, "Viasea's commitment to building these advanced ships demonstrates that logistics companies can be pioneers for a sustainable future. Through our investments in innovative technology, we are not only leading in the transport industry but also setting a bold example of how logistics can offer customers innovative and sustainable solutions, forming the basis for a sustainable future."