CMA CGM Group partners with Plastic Odyssey to build a future free of plastic waste
The Group will support Plastic Odyssey on its three-year voyage to the world's most plastic-polluted countries.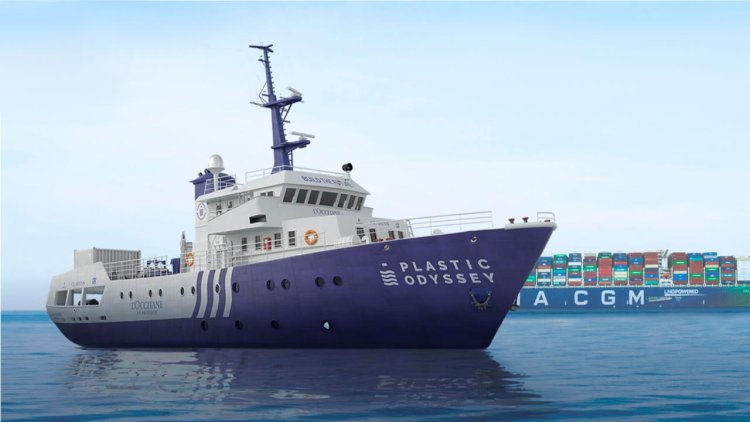 CMA CGM Group strives to make biodiversity protection a cornerstone of its CSR policy and to develop trade that is more respectful of people and the planet. As part of these efforts, the Group is partnering with Plastic Odyssey, a non-profit working to reduce plastic pollution in the ocean by creating a global network of local plastic recycling and upcycling initiatives.
On October 1, the non-profit's namesake ship will set sail from Marseille on a three-year voyage to the 30 countries worst affected by plastic pollution, on three continents (South America, Africa and Asia). The first two ports of call will be Beirut, Lebanon, and Alexandria, Egypt, where her stay will coincide with the COP 27.
During each stopover, which will last three weeks, one of the main priorities will be to train a dozen entrepreneurs to set up plastic recycling centers. In each country, a range of low-tech, low-cost, open-source recycling solutions will be tested and demonstrated to the entrepreneurs to help them create new products (such as bags, tiles, and pipes) as a way of upcycling plastic waste.
Plastic Odyssey's aims for this expedition are to:
Raise awareness, in emerging countries in particular, of the importance of reducing plastic waste and of how it can be upcycled.
Help spread knowledge of recycling methods and technologies in the countries visited by the vessel.
Promote the growth of local plastic upcycling initiatives, so that communities can transform their plastic waste into useful everyday objects, in a circular economy solution that will eradicate plastic pollution and create jobs in each country.
Give talks, make videos, and produce photo features during the expedition to support public awareness campaigns both in France and elsewhere.
The Plastic Odyssey project is all about solving plastic pollution in the ocean by stopping waste at the source: on land. Once plastic reaches the oceans, it cannot be recovered.
Plastic waste is a major issue both for our oceans and for biodiversity. Every year, around 10 million metric tons of plastic end up in the sea. If nothing is done, this figure is set to triple in the next twenty years to reach 29 million tons annually, and the consequences for marine, animal and plant ecosystems will be irreversible.
Plastic Odyssey is working to implement technologies to upcycle plastic and develop the plastic waste recovery industry, to create jobs while taking action on plastic pollution at the source.​ This goal is in keeping with CMA CGM Group's focus on entrepreneurship, which has led to the creation of Le Phare, the CMA CGM Foundation's social incubator supporting business creation in the fields of education and the solidarity economy.