BASS Launches the BASSnet Crew Portal Web App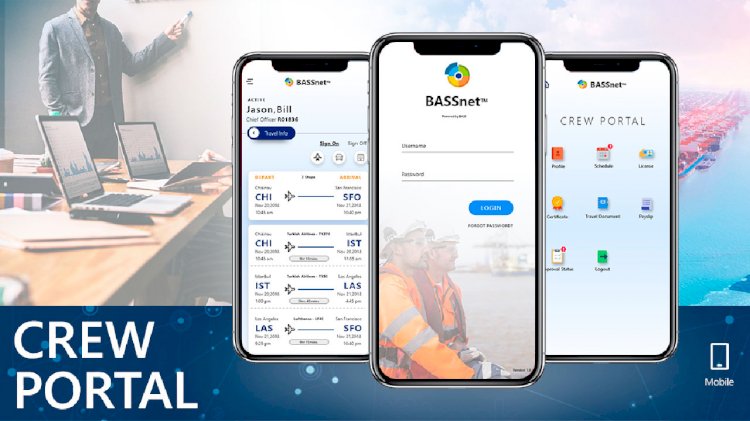 Photo: BASS
BASS has announced the launch of the BASSnet™ Crew Portal, a modern Progressive Web App that gives seafarers comprehensive access to personal details, sailing plans and travel documents on-the-go, accessible from ship or shore.
Ineffective communication is the often costly by-product of time delays and the ton of red tape inherent in traditional crew management systems. The new BASSnet™ Crew Portal app makes a real difference here. The app displays real-time information on a responsive and user-friendly web interface, and can be used on any browser that supports Progressive Web Apps, such as Chrome, Edge and Safari. This immediately creates transparency for effective communications.
Customers can also say 'goodbye' to the often headache-inducing installation process for traditional apps; being a Progressive Web App, crew need only register the applicable URL to begin using the Crew Portal. Significantly, all communication is secured by default via Secure Sockets Layer (SSL) encryption, through use of HTTPS.
Crew can directly update personal information, signal availability, and provide details of new or revised licences, certificates and travel documents. In addition, travel details are available at the push of a button, with the app displaying itinerary details for flights, hotel bookings and ground arrangements. To aid supervisory input, app data is synchronised with the powerful BASSnet™ HR Manager System for the crewing manager's review and approval.
Per Steinar Upsaker, CEO and Managing Director of BASS, said:
"Managing crew across multiple ships can be a costly, time-consuming and logistically complex process. Our goal was to create an ecosystem that drives stress-free, straightforward and timely information exchange between seafarers on board vessels and their crewing managers at the office. This cornerstone of effective crew management was a must for us to achieve. The Crew Portal app is an invaluable bridge for effortless two-way communication on-the-go."
Martin Bjoernebye, BASS's VP of Research and Development, noted:
"We also wished to increase visibility of business processes for safer and more efficient crew organisation. By providing crew with direct, real-time access to their own data and documents, not only does the Crew Portal keep the crew informed and up to date as they travel, but it is also incredibly easy to instantly update time-sensitive information on travel documentation and claims."
Interactivity is an essential hallmark of the app's capabilities. Not only can crew view activities and sailing plans – along with helpful compliance information – but they can also actively accept or reject proposed activities such as training events. Importantly, crew can upload attachments directly via the app. Claims can be posted instantly. As an added convenience, receipts can be snapped from the crew member's phone and uploaded, with the ability to enter transaction amounts in multiple currencies, all in real-time.
Upsaker added:
"The BASSnet™ Crew Portal combines the utility of instant browser-based access on mobile devices with a comprehensive selection of useful functions that optimise crew management. We have curated the Crew Portal's capabilities to create a flexible yet seamless end-to-end crew management experience for our customers."
The Crew Portal app is the latest offering from BASS in their ambitious 2019 road map. Innovative mobile solutions are now a pivotal component of the BASSnet™ suite, and the powerful Crew Portal app is a great example. This useful tool will undoubtedly expedite organisation of crew activities while ensuring that crew data is always kept up-to-date across a fleet of ships, all from the convenience of a mobile device. BASS plans to build on the app's current functionalities to further reduce the costs and complexity of crew management during upcoming phases of the app rollout.
About BASS
BASS, founded in 1997 with Norwegian heritage, is a leading global provider of fleet management software for ship owners and ship managers, as well as operators of rigs and floating production, storage and offloading vessels (FPSOs), and offshore units. More than 100 customers, including many of the world's leading shipping companies and offshore service providers, run fully-integrated BASSnet™ Fleet Management Systems on more than 2,000 vessels around the world in order to manage their physical assets, operational processes and human resources, ensure regulatory compliance and improve financial results