Aramco Asia deployes the "smart helmet" technology
"Smart helmet" technology, as worn by this engineer, enables engineers to inspect materials remotely to minimize people gathering while ensuring sustainability of company operations amid the COVID-19 pandemic.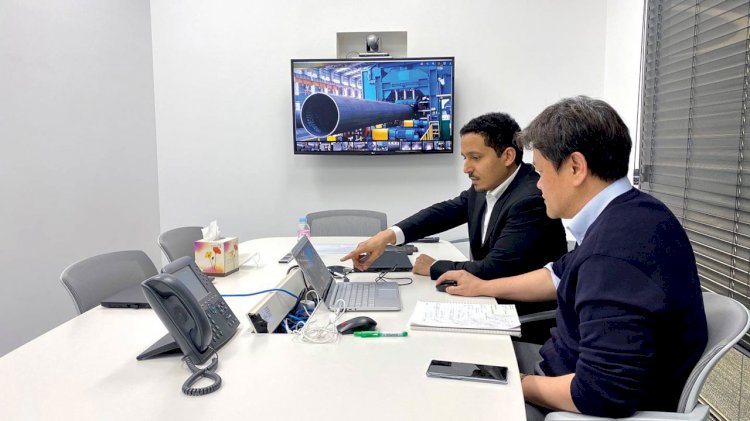 Photo: Saudi Aramco
In-line with Saudi Aramco's Digital Transformation Program – which capitalizes on innovative Fourth Industrial Revolution technologies to deliver energy more sustainably and efficiently – Aramco Asia recently deployed a "smart helmet."
Operating on artificial intelligence, the helmet remotely monitors equipment and material fabrication activities, helping to mitigate the risk of COVID-19 transmission.
The technology behind the smart helmet, an Android tablet class wearable computer, is a hands-free device attached to a regular industrial helmet. It uses voice recognition software and allows for numerous functions such as easy document and screen sharing, high resolution image capturing, video recording, and real-time augmented reality mark-up for remote guidance. The helmet also enables multiple people to remotely run multiple support sessions at one time.
Anwar A. Al-Hejazi, Aramco Asia president, said:
"Digital transformation is driving change in how we manage our business in Aramco Asia, and it supports our stakeholders through enhanced agility and innovative solutions — especially in times of crises. Aramco Asia will continue to explore and adopt innovative technologies that can add value to our operations."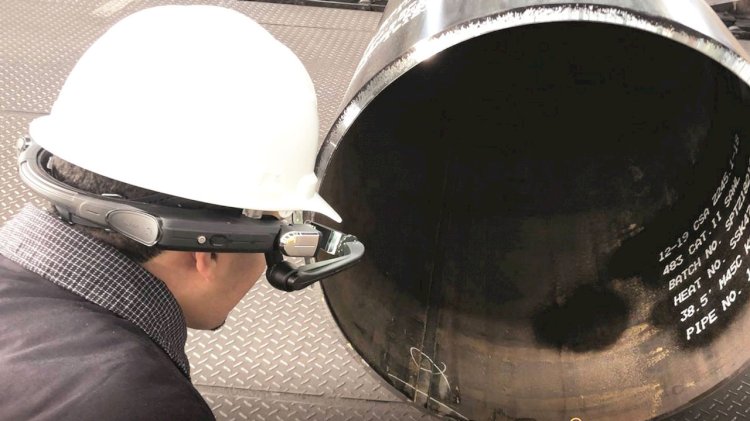 Highlighting the value of such technologies, Aramco Asia-Korea representative director Fahad A. Al-Sahali said:
"This technology brings about many benefits that enable us to reliably and safely sustain our operations, by increasing on-the-spot audits to monitor materials fabrication activities and expediting related urgent assessment processes. Identifying suitable technologies that complement our processes at an early stage enhances our business continuity measures."
To ensure business continuity during the current COVID-19 pandemic, Aramco Asia engineers in South Korea have utilized the smart helmet technology to remotely evaluate a new potential manufacturer located in Ulsan (approximately 350 km from Seoul) that produces straight seam pipes.
A group of technical and inspection assessors from Saudi Aramco Consulting Services in Dhahran and Aramco Asia Engineering and Technical Services in Seoul collaborated and interacted remotely with manufacturer representatives through live streaming. This unique solution — carried out to support an urgent request to assess the manufacturer's performance and equipment operation conditions — was remarkably efficient.
The technology has also been utilized to supervise inspection activities and mechanical testing for the company's ongoing critical purchase orders for projects such as the Marjan Increment Program. This solution has helped to maintain human safety requirements, deliver proper inspection services, and support the company's capital project's schedules.
The inspection results were satisfactory and supportive of the company strategy to promote digital transformation for business functions. Aramco Asia will continue using the technology to ensure product integrity and business efficiency.