Autohydro stability software upgraded to V6.9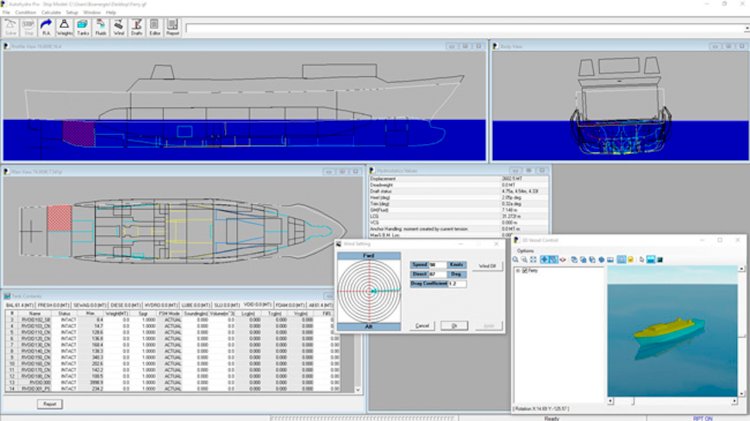 Photo: Autoship Systems Corporation (ASC)
Autoship Systems Corporation (ASC) has announced the release of Autohydro Pro 6.9 hydrostatics & stability software; the most advanced version of the program to date.
The upgraded Autohydro offers full compliance with new IMO resolution MSC.415(97) for anchor handling and towing operation on voluntary basis. The IMO requirement or amendment to the 2008 IS code will take effect on January 1st, 2020.
The current release continues to add important functionality and ease-of-use features to allow you to easily evaluate stability criteria. A true 'floating simulator', Autohydro reports the reaction of the model to various conditions such as a loading configuration, a damage situation, conditions involving outside forces, wind or high speed turning momentum or some combination of these.
New Features found in Autohydro 6.9 include:
Intermediate flooding and enhance connection points and reporting.
Max anchor tension calculations.
Method to show bottom damage cases in probablistic calculations.
Method to show min side damage cases in probalistic calculations.
Second generation stability criteria (level 2).
MaxVCG improvements for wind.
Dynamic limit definition.
Added special condition rules for damage stability in Modelmaker.
Control over sloughing angle of cargo.
Further righting arm assessment enhancements.
Autohydro can also be used to obtain hull form characteristics and capacities. Vessel attitude is displayed graphically and in text on the screen. Report information, text and graphs, can be shown on the screen, edited, printed, saved or exported to other Windows® applications.
About ASC
Autoship Systems Corporation is a marine software developer of load planning software, loading instrument software and integrated CAD/CAM programs.