AI-powered smart feeder accelerates the growth rate of red sea bream
UMITRON accelerates the growth rate of red sea bream with its AI-powered smart feeder UMITRON CELL during its aquaculture technology project with Ainan municipality.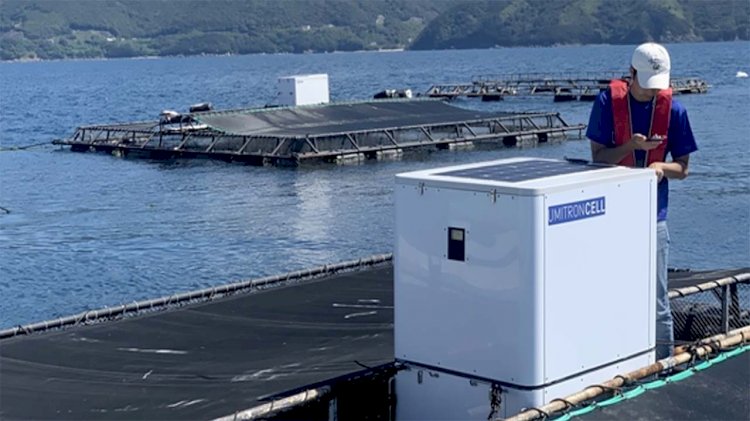 Photo: UMITRON
UMITRON K.K. completed a research contract from FY2018 with the Ainan municipality, Ehime prefecture in Japan, and reported the positive results of their installation of the smart feeder "UMITRON CELL".
Located in the southern part of Ehime prefecture, Ainan town has one of Japan's premier aquaculture fishing grounds with a temperate climate and protected shoreline. Aquaculture is the core industry of the town, but it is facing changes including an increase in production costs due to soaring prices of feed and labor shortages due to an aging population.
UMITRON's goal was to reduce the farmer's workload via remote monitoring and control systems that utilize IoT technology, in order to optimize feeding based on data analysis. Cooperating with Ainan aquaculture producers, UMITRON installed the smart feeder UMITRON CELL along with UMITRON FAI (Fish Appetite Index), which is a real-time fish appetite analysis powered by AI. With these technologies, they have been conducting research experiments since FY 2018 to help solve the aforementioned issues.
In conjunction with UMITRON CELL and UMITRON FAI monitoring the fish and waste feed, UMITRON conducted growth experiments that adjusted the amount of feed by remote control according to the fish's appetite. Using this technology the aim was to improve both the feed efficiency and the growth rate by minimizing lost feeding opportunities as well as feed wastage.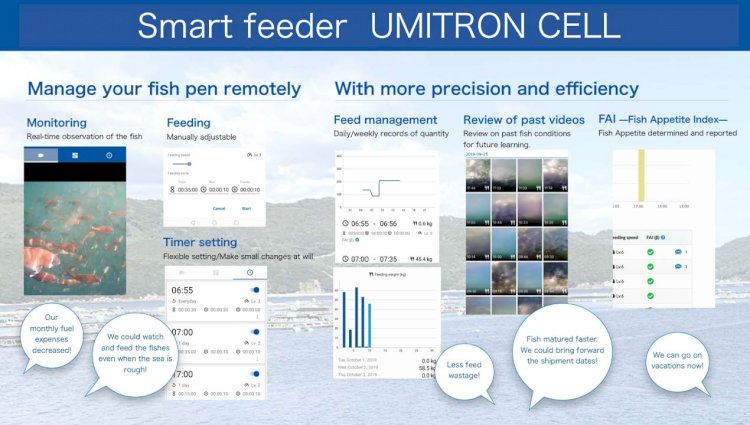 Juvenile red sea bream were placed in the fish pens at the same time and a comparison was made between pens with and without UMITRON CELL. In April, after one year of testing, the results showed a 0.4 kg weight advantage to fish grown with UMITRON CELL versus fish without UMITRON CELL. This resulted in growing fish to 1 kg market size 4 months faster than was previously possible.
Additionally, the previous standard feed conversion ratio(FCR) of 2.62 , was significantly improved to 2.06 when using UMITRON CELL. Many farmers and stakeholders in the aquaculture industry were surprised by this dramatic improvement in performance in both growth rates and feed efficiency.
By utilizing the remote control and real-time monitoring function of UMITRON CELL, it was possible to improve the farmers' working environment, and produce environmentally-friendly fish. Also, the latest version of UMITRON CELL expands the feed tank capacity by 100% from 200kg to 400kg which has resulted in less frequent boat trips for feed replenishment and a reduction in fuel costs.