VIDEO: Generals cargo ships collision in Welland Canal, Great Lakes
The video shows the two vessels slowly advancing toward each other before colliding.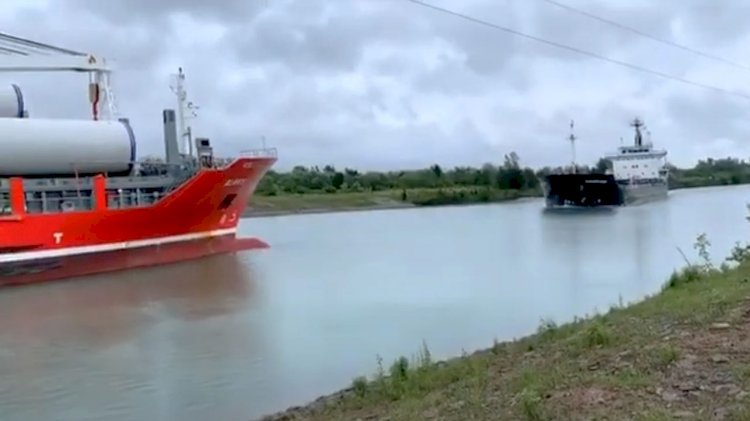 General cargo ships ALANIS and FLORENCE SPIRIT collided at around 2000 UTC Jul 11 in Welland Canal, which is connecting Lake Ontario and Lake Erie, Great Lakes.
Prior to the collision, both vessels appeared to be travelling in opposite directions on the same side of the canal, a key shipping route that connects Lake Erie and Lake Ontario.
The ships collided while proceeding in opposite directions, ALANIS en route from Toledo Ohio, Lake Erie, with cargo of wind turbines, FLORENCE SPIRIT en route from Montreal to probably, Colborne. Both ships were damaged in fore area, extent of damages unknown.
ALANIS reached Colborne and was berthed in about an hour after collision, FLORENCE SPIRIT was berthed at Welland, near collision site.
General cargo ship ALANIS, IMO 9468085, dwt 12744, built 2010, flag Antigua, manager RAMBOW REEDEREI (EQUASIS). General cargo ship FLORENCE SPIRIT, IMO 9314600, dwt 14001, built 2004, flag Canada, manager MCKEIL MARINE LTD (EQUASIS).