Tallink Grupp teams with ABB to achieve environmental goals
MyStar represents the next generation of passenger ferries, where efficiencies and green solutions are an integral part of every process and function on board.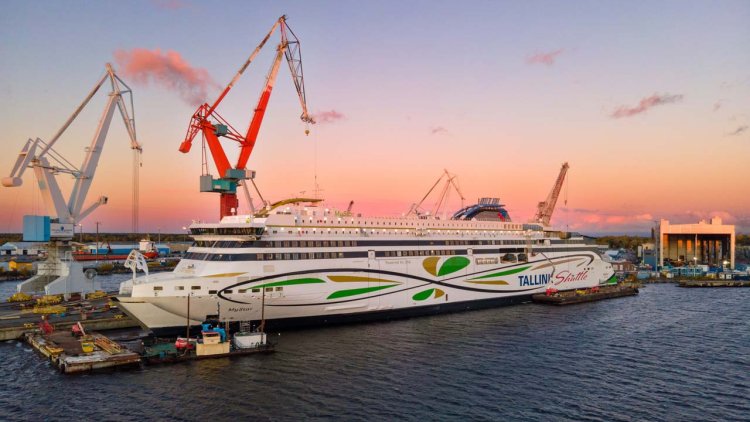 Photo: Tallink Grupp
Tallink Grupp is the first Estonian company to join international technology giant ABB's global sustainability movement, Energy Efficiency Movement, the aim of which is to enhance environmental protection through increased energy efficiency and emissions reduction projects and activities.
Although Tallink has taken steps to increase the company vessels' energy efficiency for many years already, it was the launch of the shipping company's newest fleet member MyStar on the Tallinn-Helsinki route in late 2022 that pushed the company to take the step and join the movement.
MyStar represents the next generation of passenger ferries, where efficiencies and green solutions are an integral part of every process and function on board. ABB has produced MyStar's electrical switchboards, shore power equipment, main electrical engines and generators. MyStar's five generators have all been manufactured at ABB's Estonian motors and generators factory. All this equipment on board MyStar produced by ABB helps achieve the global sustainability goals of the movement. Using the shore power equipment alone during longer ports stays overnight, helps reduce MyStar CO2 emissions by a whopping 1344 tons a year.
In order to join ABB's global movement, companies must make a pledge to increase energy efficiency and reduce emissions. Tallink Grupp has pledged to reduce the absolute emissions of the company's vessels by 2% annually and similarly to increase energy efficiency of the vessels by 2% annually. The International Maritime Organisation has set a goal for global shipping companies to reduce their emissions by 50% by 2030 compared to the emissions of the baseline year 2008. Tallink Grupp's vessels CO2 emissions have already been reduced by 51.9% compared to 2009 thanks to different investments into the ships, new solutions and technologies.
According to Jukka Patrikainen, manager of ABB Baltics, the whole global industrial sector has now turned its attention to increasing cooperation and developing sustainable solutions.
"The We demand and you produce way of working has been replaced with a dialogue between the different parties and mutual support, where those who need and order the solutions also expect the producers and manufacturers to proactively offer fresh ideas and new technologies for achieving goals in a sustainable way. MyStar is an excellent example of clever and modern solutions, such as optimising software, economical electric engines, and constant application of power to the ship's propulsion equipment, have helped reduce the ship's energy consumption, noise and GHG emissions," Patrikainen said.
"Tallink is a pioneer in shipping and great proof of the fact that even companies with significant infrastructure, can make substantial changes in their fleet and technologies that lead to a cleaner living environment and more sustainable operations," Patrikainen commented and added that it definitely pays off for companies to make investments into energy efficient and environmentally friendly technologies.