Smart energy technologies to be piloted at Portsmouth International Port
Portsmouth International Port will be piloting a smart energy system to significantly decarbonise their port energy operations as part of a new project, PESO (Port Energy Systems Optimisation).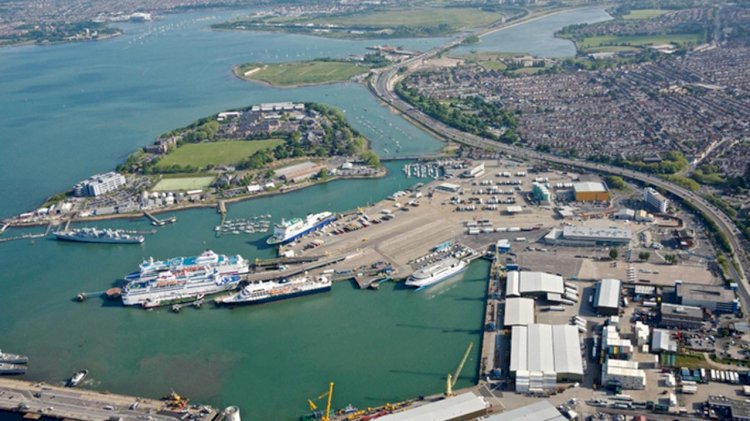 A consortium including Portsmouth International Port has successfully received around £320k of funding to revolutionise the use of renewable energy at the port.
The centrepiece of the PESO (Port Energy Systems Optimisation) scheme will be a 20-foot container sized battery, that is powerful enough to charge four mid-range electric cars simultaneously.
The port has already committed to reduce emissions as part of its Air Quality Plan. Ambitions are for the port to be carbon neutral by 2030, and contribute towards the national clean maritime plan for the UK to have net zero shipping emissions by 2050. Electrification is a vital element of the clean maritime strategy, and is particularly important for ports in order to address port-city air quality targets.
The funding will come from Innovate-UK's 'Prospering from the Energy Revolution' fund to develop develop and build a prototype system that will optimise the efficiency of the port's energy use. The project, led by Marine South East (Commercial) and supported by the port alongside Swanbarton and Energy System Catapult, will demonstrate how a port can operate as a smart energy network.
The dual chemistry battery will be an innovative lithium-ion and lead acid hybrid battery. Swanbarton is developing the energy management software for this battery technology demonstration, which is co-funded by Innovate-UK.
The port already has significant energy generating capabilities from solar panels across the site, so the ability to store electricity and then use later at times of higher demand means that clean energy can be used much more efficiently. It can also be used by the wider electricity grid to help smooth demand at peak times.
Mike Sellers, port director at Portsmouth International Port said:
"We've previously said we'll take bold action to meet our goal to be the UK's first zero emission port. This innovative project demonstrates that we want to be at the forefront of research into sustainable energy projects that will help us reach that target.
This initiative has the potential to have significant benefits for the port, and could also provide an solution to smart energy use that can be shared with the wider port industry."
Dr Jonathan Williams, CEO at Marine South East Ltd added:
"Cleaning up maritime emissions is now an urgent priority for the sector and the PESO project will be a critical stepping-stone to achieve this.
Marine South East is delighted to be leading this project with Portsmouth International Port, to build a prototype system for advanced energy management in the port. This will pave the way for de-carbonisation and other emissions reduction across the port estate."
Cllr Gerald Vernon-Jackson, Leader of Portsmouth City Council said:
"We are facing a climate emergency and as a city we have to take responsibility and direct action to combat this critical issue. This successful application for funding shows the commitment that Mike and his team at the port have to take this issue seriously, and reflect the wider city's ambition to tackle carbon emissions and air quality issues head-on."
Anthony Price, MD of Swanbarton said:
"Energy management combined with energy storage are powerful tools to unlock the benefits of smart energy networks.
We are pleased to be working with Marine South East, Portsmouth International Port and the Energy Systems Catapult as we transfer our experience of integrating energy storage systems to facilitate the electrification of port operations."