Singapore organisations team up to develop POV for a Green Modular Data Centre System
The concept is to install approximately one Petaflop of NSCC's supercomputer at the Singapore LNG Terminal on Jurong Island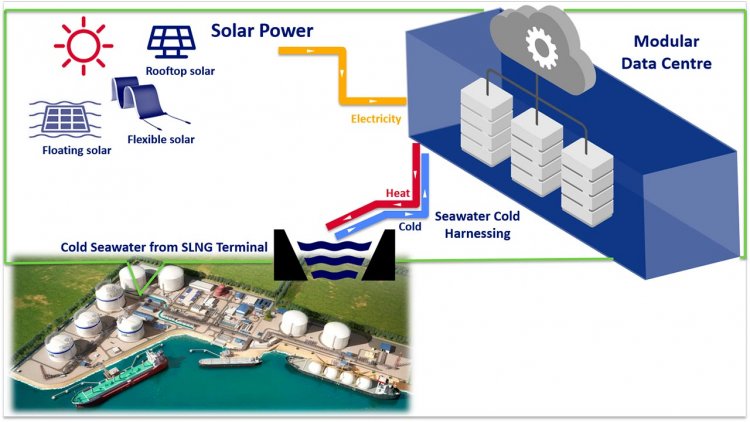 Photo: SLNG
Singapore LNG Corporation Pte Ltd (SLNG), the National Supercomputing Centre (NSCC) Singapore, the National University of Singapore (NUS) and Surbana Jurong (SJ) have signed a Memorandum of Understanding (MOU), to collaboratively explore the development of a Proof-of-Value (POV) for a Green Modular Data Centre System, which would be the first-of-its-kind in Singapore, if proven feasible.
The concept is to install approximately one Petaflop of NSCC's supercomputer at the Singapore Liquefied Natural Gas (LNG) Terminal on Jurong Island, and use the Terminal's stable and continuous chilled seawater supply to reduce the heat generated. The chilled seawater is discharged as part of the Terminal's LNG regasification process that ensures a steady send-out of natural gas for the country's power generation needs.
The project will also explore powering the prototype system with renewable solar energy or green power backup using hydrogen fuel cell, instead of a diesel power generation set. If the concept proves successful, the system has the potential to save 0.2 MW of power, roughly equivalent to a carbon footprint reduction of 700 tonnes per year, or carbon sequestered by around 11,575 tree seedlings planted and grown over 10 years.
The proposed design will make use of pre-fabricated, standard-sized containers to house the supercomputer, which will allow for a faster set up and installation, as compared to traditional data centre buildings. It will form part of the national research infrastructure that supports local research institutes, institutes of higher learning, and companies by providing the high-performance computing resources needed in various research fields. Examples of these research fields include weather and climate monitoring, genomics, engineering, offshore and marine, urban planning and biomedical science, among many others.
Associate Professor Tan Tin Wee, Chief Executive of NSCC, said:
"SLNG produces a huge amount of cold energy which is partially discharged as chilled seawater. We have the opportunity to tap on this excess cooling source instead of using more electricity to help cool our supercomputer and data centres. If successful, this prototype will demonstrate the value of industrial symbiosis, where one industry's waste can be converted into another industry's resource. By combining this with renewable energy such as solar power from photovoltaic farms, the novel concept could be a potential model for future green sustainable supercomputer data centres in Singapore."
Additionally, NUS will contribute its expertise in liquid cooling technology for the POV, and Surbana Jurong will leverage its engineering design expertise in new and renewable energies, low carbon technologies, cold energy harnessing and smart grid for the project.
Yeo Choon Chong, CEO, ASEAN, Surbana Jurong said:
"This collaboration is a significant step towards finding a viable solution to meet the growing needs of Singapore's digital economic development, even as the country pursues green energy goals outlined in the Singapore Green Plan 2030."
Associate Professor Lee Poh Seng from the Department of Mechanical Engineering at NUS said:
"The increasing power demands from exponential digital growth has presented enormous challenges for the 21st century data centres. In this project, NUS will be deploying our patented high performance-cum-efficiency oblique-fin liquid and two-phase cooling technology, which are integrated to provide a complete cooling solution. This novel technology can reduce power consumption by about 40 to 50 per cent, and is specifically designed for high performance computing servers that populate the data centres. We are delighted to partner NSCC, SLNG and SJ in our joint mission to reduce power consumption and emissions. By leveraging our complementary knowledge and expertise, we can help drive sustainable data centre growth."