SCHOTTEL to propel Orca Class heavy-lift vessels
The series of four firm and two optional new generation heavy-lift vessels will be propelled by SCHOTTEL ControllablePropellers (SCP).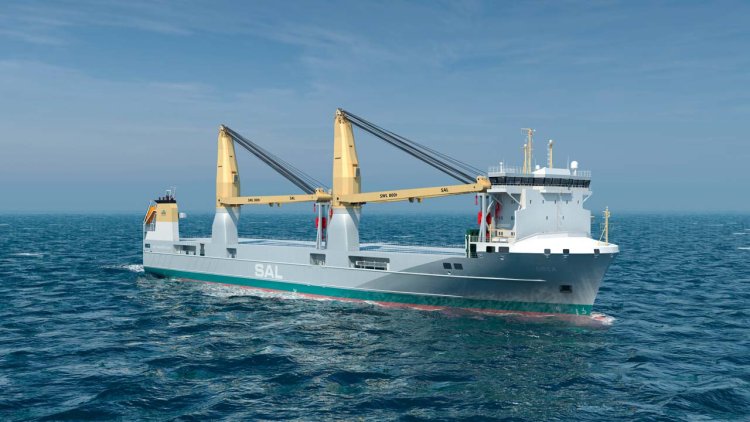 The four-bladed controllable pitch propellers type SCP 129 will feature an input power of up to 8,810 kW and a propeller diameter of six metres. The contract has been signed with Wuhu Shipyard, China.
German shipping company SAL Heavy Lift and Netherlands-based Jumbo Shipping, two globally leading companies in the field of maritime heavy-lift and project logistics, have formed a commercial joint venture under the name of Jumbo-SAL-Alliance. With the combined input and experience of both companies, the Orca Class has been designed and developed by SAL Engineering.
"The Orca Class is setting new standards in global heavy-lift shipping. They represent the new benchmark both in terms of their technical capabilities and modern climate-friendly propulsion systems," says Dr. Martin Harren, Owner and CEO of SAL Heavy Lift, SAL Engineering and the Harren Group. "The ships will be the most efficient vessels in their class, with consumption and emission figures far superior to any existing heavy-lift vessel today."
The vessels will be equipped with dual-fuel engines and can be run on methanol as an alternative fuel. As soon as green methanol becomes available in key ports, the Jumbo-SAL-Alliance will be able to offer their customers carbon-neutral transport solutions following the sustainability goals of the Harren Group. In addition to the optimized hull form, the innovative engine and propulsion concept including a booster function offers a hybrid setup with the widest available range of economic speed settings and redundancy, while also reaching a maximum vessel speed of about 18.5 knots.
In order to find the optimal propulsion set to reach these targets, the results of hydrodynamic calculations from three market competitors, including SCHOTTEL, were analyzed by a committee of the two renowned independent model test facilities China Ship Scientific Research Center (CSSRC) and the Shanghai Ship and Shipping Research Institute (SSSRI).
The open water, self-propulsion and cavitation model tests were carried out and evaluated according to SAL's pre-defined requirements, such as propeller efficiency, cavitation behaviour and propeller-induced hull pressure pulses. They verified SCHOTTEL's customized propeller design with an almost cavitation-free operation and an optimized open water curve meeting SAL's requirements to their fullest satisfaction.
The SCHOTTEL ControllablePropeller supports the elaborate green standard with a fully customized combination of propeller blades, propeller shaft, coupling, stern tube, hydraulics and sealing. The hydraulic and lubrication oil system is designed for the use of Environmentally Acceptable Lubricants (EALs). Considered a non-oil-to-water interface, the system complies with VGP regulations. In addition, the customer benefits from close cooperation between the propulsion expert and rudder manufacturer with a proposed solution to optimize the inflow, thus reducing the number of coordination paths.
The vessels measure 149.9 m x 27.2 m and provide a capacity of 14,600 dwt. Despite their compact outer dimensions, the vessels have a box-shaped single cargo hold with the largest dimensions in their class. Provided the hatch covers with a capacity of 10 t/m² are utilized for stowing super-heavy deck cargoes, such as 3,000 t cable carousels, the vessels can accommodate over-height cargo in the hold and sail with open hatch covers up to full scantling draft. The vessels will feature Ice class notation 1A, a Polar Code certification and the reduced design temperature of the hull and equipment allow the ships to safely operate in cold conditions as well.