Sanctions strand thousands of russia-bound luxury cars at Belgium port
Vehicles stuck at Belgium port as customs officials navigate sanctions related to Ukraine invasion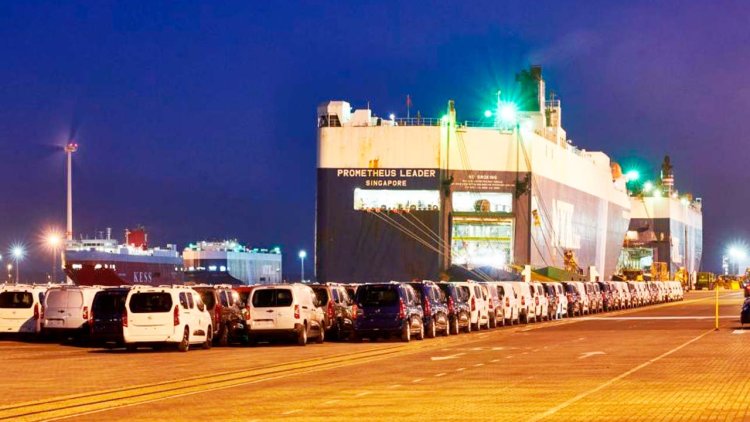 Photo: Port of Zeebrugge
Some 8,000 luxury cars destined for Russia are parked at the Port of Zeebrugge in Belgium as authorities there try to navigate a maze of sanctions slapped on Moscow for its invasion of Ukraine.
The cars—including some of the latest Lexus, Cadillac and Mercedes models—arrived from Asia in the first week of April. They were supposed to be transshipped to Russia, but came under a luxury ban that prohibits vehicles worth more than €50,000, equivalent to $54,000, from being exported. The buildup of vehicles is one example of the confusion at key European ports over how to interpret and enforce sanctions against Russia.
Marc Adriansens, director of the port's car terminal, said:
"The vehicles came under the luxury ban, but there is a range of other products stuck here that come under different sanctions. The cars won't likely move for a long time as they'll probably be sold to different markets."
Mr. Adriansens said he didn't know who the buyers of the cars in Russia are, or who owns them at this stage. He said Zeebrugge has space for 10,000 vehicles.
Ports across the world, including car terminals, have been struggling to cope with record volumes of cargoes as economies open from the Covid-19 pandemic.
Zeebrugge is one of Europe's biggest vehicle transshipment ports, moving more than two million cars a year. But sanctions apply to a range of products including aircraft parts, machinery, chemicals and semiconductors.
Zeebrugge port officials said more than 1,000 Russian-destined containers have been blocked for checks and that a number of other export hubs around Europe are dealing with similar issues.
Isabelle Ryckbost, secretary-general of the European Sea Ports Organization, a trade body grouping the EU's biggest ports, said:
"There is a lot of confusion, and we need from authorities a list of ships that we should be looking out for. Supply chains are already massively disrupted, and delays to check which ships and what products are banned adds to the strain."
With new sanctions on Russia introduced regularly, European customs officers are struggling to keep up, according to people familiar with the matter. A particular problem with sea trade is that although Russian-flagged vessels are banned from ports in Europe and the U.S., many are still sailing using other flags and are registered outside Russia.
ESPO called on EU governments this week to deploy more staff and resources to determine which vessels and cargo are covered by the ban and which ones are to be exempted.
The EU has issued some guidelines on how to implement the bans, but port operators said the rules are often confusing and involve a lot of exemptions.
Source: WSJ