Ports test an underwater robot that can inspect quays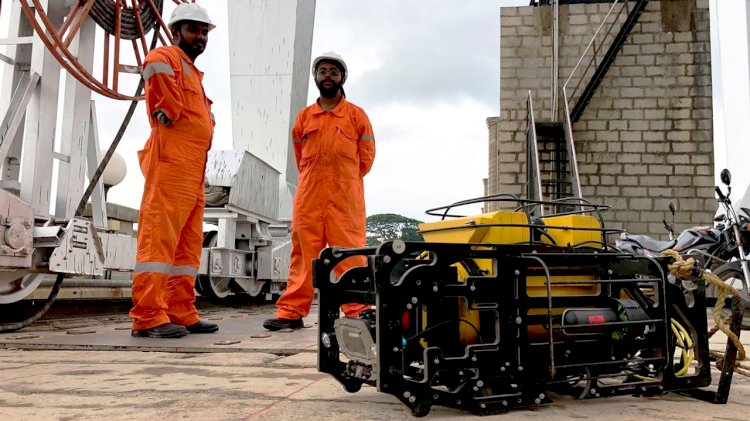 Photo: Port of Rotterdam
The Port of Rotterdam Authority and North Sea Port conducted tests this summer using an underwater robot that can inspect quays.
North Sea Port conducted the tests in partnership with Asset Insight - a VolkerWessels company. Indian company Planys Technologies carried out the inspections. This start-up participated in last season's PortXL acceleration programme in Rotterdam, and these tests were covered in various media.
Quay inspections are currently still carried out by divers. Deepsea shipping in the area then needs to be stopped for safety reasons. This is no longer necessary with the Planys Technologies innovative high-tech underwater robot. The robot, equipped with laser and sonar equipment as well as a high-resolution camera can also collect information faster, whatever the weather conditions. Inspections with this robot are faster, cause less disruption and produce objective data.
For instance, one of tests showed that current and murky water can influence data. Planys Technology aims to use these insights to improve the product. They are also developing a system to enable measured data to be consulted in a clear way - a combination that is unique in the market. The next exploration is currently being investigated, together with the Port of Rotterdam.
Together with the Port of Rotterdam Authority, North Sea Port and the Municipality of Rotterdam, Planys Technologies completed 4 pilots during the 2019 PortXL start-ups and scale-ups programme. Participating in this programme opened doors for them, enabling them to make contacts with maritime corporates and resulting in plans for additional projects; opportunities that Planys Technologies aims to make the most of. The company is looking at the options of moving to Rotterdam.
About PortXL
PortXL is the world's first Maritime Port Accelerator and is unique in its kind, with a global network of leading companies and experts. PortXL aims to accelerate innovative technologies for the maritime, logistics, energy and chemical sectors in port regions across the world. In doing so, PortXL is activating the largest possible ecosystem to stimulate entrepreneurship for all involved parties.
The PortXL ecosystem comprises start-ups and scale-ups, investors and partners, and market leading companies such as Van Oord, Port of Rotterdam Authority, EY, Royal IHC, Mammoet, Vopak, Boskalis, Shell, Rabobank, Municipality of Rotterdam, Rotterdam The Hague Airport, InnovationQuarter and ECE.