New hybrid straddle carriers operational at HHLA Tollerort
These vehicles consume significantly less fuel and thus also emit correspondingly fewer emissions.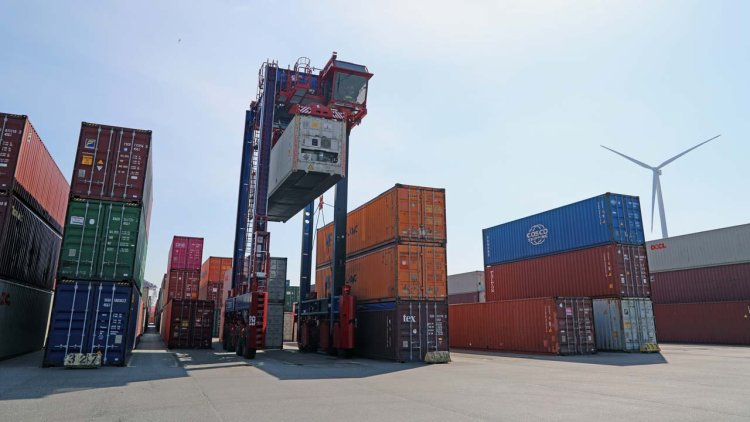 The renewal of the straddle carrier fleet at Hamburger Hafen und Logistik AG's (HHLA) Container Terminal Tollerort (CTT) is moving forward: in April, eight new straddle carriers with hybrid drive went into operation and have since been transporting containers in a more environmentally friendly way between ship, yard, rail terminal and truck gate.
Including these eight new units, the hybrid straddle carrier fleet at CTT now totals 18 units. The principle of the technology used is simple: the straddle carrier stores surplus energy, which is for example generated during braking or while the load is being lowered, in a high-performance lithium-ion battery. As it drives, the vehicle uses this energy from the battery. This significantly eases the load on the combustion engine.
Each hybrid straddle carrier thus saves over 30 percent fuel per operating hour compared to the diesel-electric previous models. This means that the eight new hybrid straddle carriers can save about 200,000 litres of diesel per year. CO2 emissions are also greatly reduced by around 530 tonnes per year.
Commenting on the new hybrid straddle carrier fleet, CTT Managing Director Robin Steyer says:
"With the modern hybrid straddle carriers, we are cutting our energy costs and reducing emissions at the same time. They are further proof that HHLA consistently relies on state-of-the-art technology and intelligent solutions. This benefits the company, the environment and the employees."
Beforehand, HHLA tested the equipment itself in demanding 24/7 port operations under all weather conditions: The first two prototypes of hybrid straddle carriers started test operations at CTT back in January 2019. At the time, they were a further step by HHLA towards converting its large-scale equipment to increasingly environmentally friendly technologies.