New double-ended ro-pax ferry for operation in Tasmania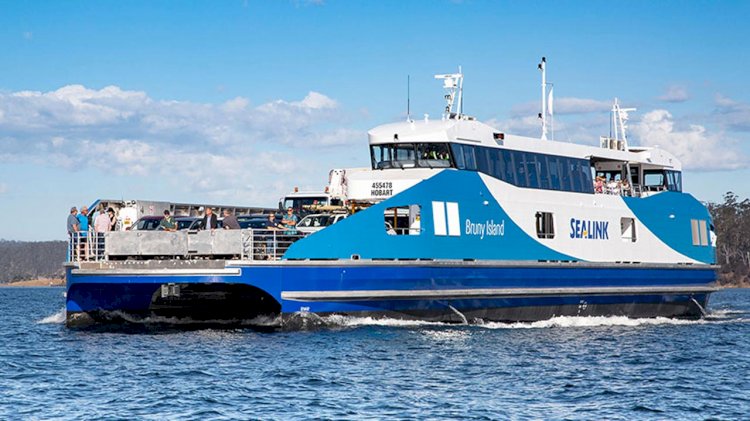 Photo: Incat Crowther
Incat Crowther has announced the launch of Nairana, a double-ended ro-pax ferry for operation to Bruny Island in Tasmania. The Incat Crowther 44 was commissioned by Sealink Travel Group and built by Richardson Devine Marine in Hobart.
Nairana breaks new ground by combining robust aluminium structure, double-ended functionality and a catamaran platform. The catamaran hull platform with its generous beam offers significant fuel savings compared to a monohull. The vessel will bring improvements in both transit and turn-around times.
In addition to improved performance, Nairana brings modern vessel technology, including the latest in fitout and convenience.
The vessel is configured to carry 36 cars and 192 passengers. Three of the vehicle lanes are unrestricted in height, with the central two lanes carrying a total 90 lane meters of trucks. It is certified to carry dangerous goods.
The elevated superstructure – located to one side of the vessel – has both interior and exterior spaces. The indoor space seats 32 passengers in booth seats with tables, whist the outdoor space features café style seating for 30 passengers.
Incat Crowther worked with Sealink to customize the vessel to the operator's docks, as part of a wholistic approach to the operation, including design and on-site fitment. This approach targets long-term value and minimizes risk to the operator. Nairana performed well on recent performance and docking trails, exceeding her contract speed and successfully interacting with shore-based infrastructure.
Nairana is powered by four Scania DI13 070M main engines, each producing 200kW. Positioned in each of the four corners of the vessel, these engines are directly coupled to Schottel SRP 100 azimuthing drives. As well as offering exceptional maneuverability, the azimuthing drives provide propulsion efficiency with all four delivering thrust in the direction of vessel travel. If required, the vessel can operate on two pods during off-peak periods, further reducing operating costs.
A second vessel is under construction at Richardson Devine Marine.