NAPA and Korean Register partner to facilitate 3D-Model-Based Approval
NAPA and KR develop an interface between 3D CAD/CAE system and class society's rule scantling software, accelerating the approval process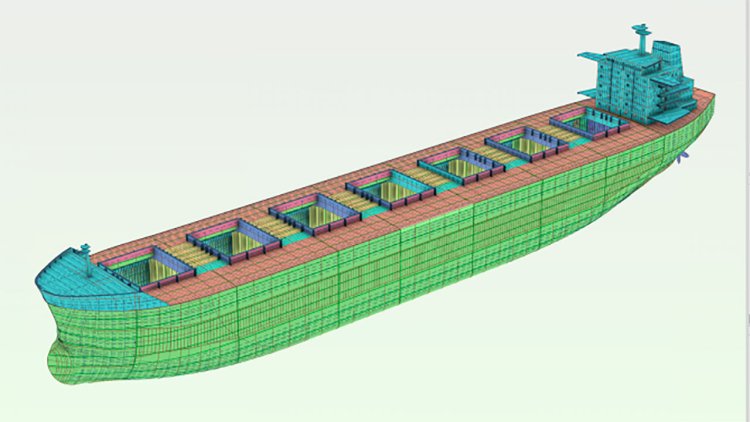 Photo: NAPA
NAPA and class society Korean Register (KR) have completed the development of an interface linking structural design software – NAPA Steel – to KR's SeaTrust-HullScan rule-checking software.
SeaTrust-HullScan performs structural analysis for vessels to which common structural rules are applied and is widely supported by shipbuilding companies around the world. NAPA Steel is used for designing, viewing, and evaluating 3D designs, enabling designers, engineers, and class societies to rely on a single source of truth.
Many Korean shipyards use SeaTrust-HullScan for class approval after designing with NAPA Steel. Because each software previously used its own file format, users had to enter data into SeaTrust-HullScan based on 2D drawings, even though the data already existed in NAPA Steel.
This live interface now allows SeaTrust-HullScan users to access critical information such as Section, Compartment, and Principle Particulars for Rule Scantling in real-time from NAPA Steel's 3D model at the click of a button. The developers expect that this will lead to a significant increase in design productivity and quality, as users are now enabled to access accurate information within seconds, as opposed to the previously inputting information over several hours.
3D model-based approval (3D MBA) also opens the door to greater use of digital twins for asset life-cycle management, where real-world data can be compared against a virtual model of a ship, and vice versa, to identify problems and validate performance data.
Daeheon KIM, the Executive Vice President of KR's R&D division, said:
"This live interface function jointly developed with NAPA can share accurate information from NAPA Steel in seconds, with a single click. This is a dramatic improvement from the previous arrangement which took several hours to input data to SeaTrust-HullScan. We expect that this dramatic improvement will make SeaTrust-HullScan even more popular with users while contributing to productivity and quality of ship design."
Yong-Sook Lee, Managing Director, NAPA Korea, said:
"NAPA has long pioneered the shift from 2D to 3D in design and approval. This co-development was implemented to realize the technical developments required to give users of KR and NAPA software the real benefits in assessing the scantling of a structure via 3D models – finally making 3D MBA a reality."
"By continuing to rely on 2D drawings, the sector wastes hundreds of thousands of manhours each year, as well as increases the likelihood of avoidable errors in designs. Thus, 3D model-based approval is an essential part of naval architecture's future. Ships are three-dimensional objects, and we need to be able to assess them in every plane. This development from the cooperation between KR and NAPA demonstrates that the technology is available and ready to be implemented globally."
KR and NAPA plan to provide the live interface functions soon and to also expand the interface area through additional joint development, further accelerating the adoption of 3D MBA throughout the maritime industry.