Key wind-assist propulsion installation starts North Sea operations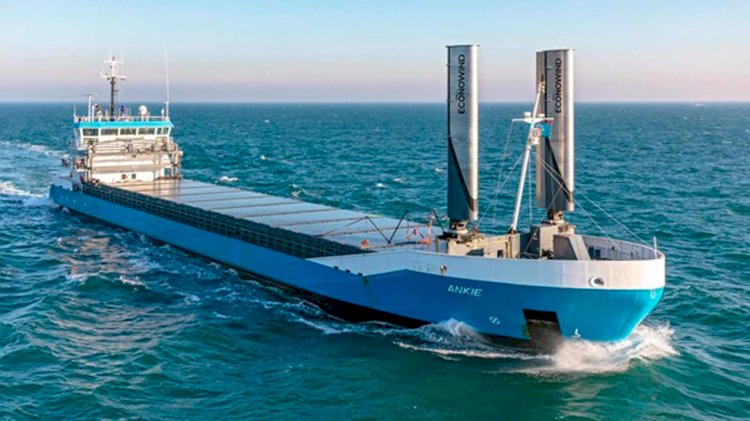 Photo: RINA
RINA took part in a project showing how innovative technologies can make the shipping industry environmentally friendlier
During the docking of the MV Ankie of Jan van Dam Shipping in January 2020 at the Royal Niestern Sander shipyard, the first retrofit eConowind Ventifoil wind-assist system was installed, six months after signing the contract.
Bart Volgers said:
"The good and close cooperation between eConowind, Van Dam Shipping and Niestern Sander resulted in a pioneering project, which was completed within the planned installation period."
The modular Ventifoil units are in the form of wings with vents and an internal fan that use boundary layer suction for maximum effect. This installation features two, 10-meter wings that will generate significant force allowing the vessel to reduce motor power and thus save energy. In a second step, the units will be extended by a further six meters.
The 3,600 DWT general cargo vessel MV Ankie, made its first voyage with the two wings installed, sailing for Wagenborg from Delfzijl to Hamburg, onwards to Norway and then back to Rotterdam.
Wagenborg states:
"We take active part in the shipping industry's de-carbonizing energy transition. Together with our stakeholders, such as our affiliated captain owners, clients, investors, employees and suppliers, we accept sustainability challenges to reduce our environmental footprint. We are happy Jan van Dam, who has been sailing for Wagenborg over 26 years now, picked up the glove resulting in this Ventifoil project".
For eConowind BV, located in Groningen, the Netherlands, it is the first commercial installation of their Ventifoil system. The wind-assist system was developed over the past three years supported by an EU backed grant and this first voyage marks a significant milestone for the company in bringing their technology to a shipping market eager to deploy credible decarbonization solutions.
RINA carried out the design approval, foil production and construction supervision together with the commissioning protocol preparation. Pino Spadafora, EMEA Marine Commercial Director at RINA, commented:
"This project fits perfectly with the strong focus RINA has on innovative technologies that contribute to an environmentally friendlier shipping industry."