Jan De Nul starts works in Taiwan for the Formosa 2 Offshore Wind Farm
Nearshore and onshore construction works in Taiwan have started at the landfall site in Miaoli County and Taichung port.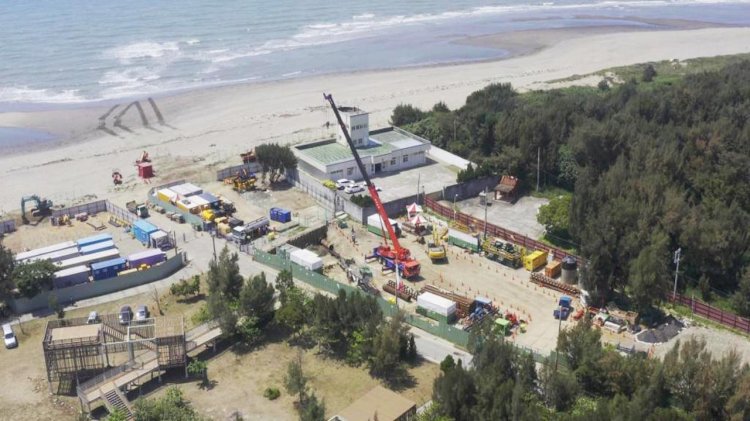 Photo: Jan De Nul
These works are executed in close cooperation with the local supply chain. Offshore installation works will commence later this year.
At the landfall site in Miaoli County, the nearshore pre-trenching works and Horizontal Directional Drilling (HDD) from shore have commenced. In total, four HDDs will be drilled at the landfall site. For pre-trenching near HDD exits, the configuration of in-house developed Starfish excavators was specifically adapted to suit Taiwanese Offshore Wind Projects. All these works are being executed in compliance with the environmental regulations. Moreover, the Jan De Nul teams performed multiple beach clean-ups before start of the works.
Meanwhile in Taichung, 50 kilometers to the South, onshore preparations works are well under way with Hung Hua Construction preparing the storage area for pin piles and jackets arriving later this year.
Apart from overseas procurement and services, Jan De Nul Group has finalized various service and subcontract agreements with local entities in Taiwan. Having appointed Taichung Port as marshalling harbour for the project, Jan De Nul Group set up its local supply chain with the support of its long-standing partner Hung Hua Construction. These include preparations for storage and transport of the foundation structures, installation of transition joint bays and various offshore support vessels.
Peter De Pooter, Manager Offshore Renewables at Jan De Nul Group, says:
"Our local integration has been ongoing for years thanks to our past experience of various marine activities throughout the region. In the past months, we have signed several agreements with local suppliers for this project in Taiwan. Our local partner Hung Hua Construction has been working with us on the Formosa 1 Phase 2 project, now completed, as well as on the Changhua project and the Formosa 2 project, both under construction. These engagements fit perfectly in our philosophy of involving the local supply chain as much as possible."
Meanwhile, jacket fabrication was kicked off and subsea cables manufacturing is ongoing at the Asian supply chain. An important milestone has been reached with the fabrication of half of the 188 pin piles completed. Each pile is approximately 65m long, has a 2.4m diameter and weighs 240 tonnes. The piles form part of the turbine's foundation structure, which includes one jacket and four pin piles anchoring the jacket to the seabed.
Once fully constructed, Formosa 2 will be one of Taiwan's largest offshore wind projects, utilizing 47 market-leading 8 MW turbines to produce 376 MW, enough to provide up to 380,000 Taiwanese families with green energy.