Damen calls on Dutch company to deliver Australian equipment for vessel built in Romania
Two landing barges recently arrived at Damen's shipyard in Vlissingen, the Netherlands from Australia, having been shipped halfway around the world by Dutch logistics company Schenker Logistics.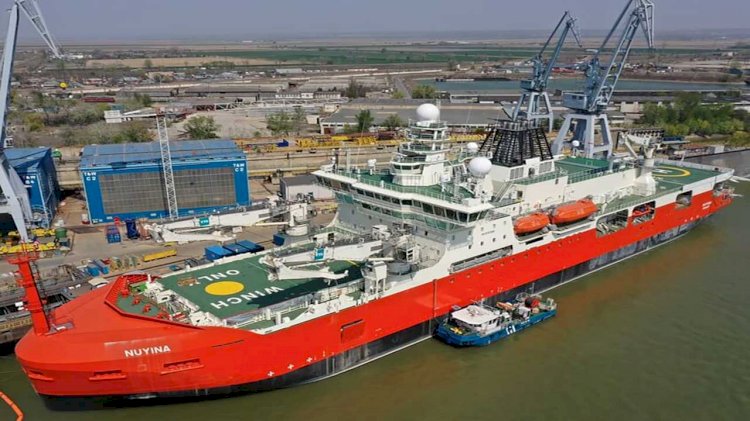 Photo: Damen Shipyards Group
The barges built by Tasmania-based Taylor Bros. will be transported from Vlissingen to Damen Shipyards Galati in Romania. Here, they will be loaded aboard the state-of-the-art Antarctic Supply and Research Vessel RSV Nuyina that Damen is building for the Australian Antarctic Division (AAD).
Damen has a long relationship with Schenker Logistics, the preferred container carrier for Damen Schelde Naval Shipbuilding (DSNS). The company, in operation since 1892, has previously carried all the containers for the Long Range Ocean Patrol (POLA) vessel that Damen has constructed in Mexico for the Mexican navy, as well as for the Landing Support Tank being built at Damen Shipyards Sharjah for the Nigerian navy.
In the Netherlands alone, Schenker Logistics operates 22 logistics centres and seventeen offices, employing some 3,200 people. This project was handed by Schenker Rotterdam and involved ten of the branch's 100 personnel. This was a special project, given added complexity by the coronavirus crisis taking place at the time. Despite the challenges, the barges, which were dispatched on 10th February in Hobart, had arrived safely in Vlissingen by 3rd June.
Taylor Bros., builder of the barges, is a third generation family business headquartered in Hobart. The company has been a contractor to the AAD for 25 years, providing upgrades and maintenance to the organisation's supply and research vessels and Antarctic infrastructure. Taylor Bros was perfectly positioned for this project, having delivered and maintained the durable barges for the Aurora Australis, the predecessor vessel to RSV Nuyina.
The barges, Nuyina LB 1 and Nuyina LB 2 will enable the loading and unloading of personnel, cargo and research equipment to and from the parent vessel. They can each carry 45.5 tonnes and have high bollard pull jets resulting in a fast, multi-purpose transport craft well suited to the toughest environment on Earth. Taylor Bros. in particular and Tasmania more generally have an excellent reputation for the manufacturing and supply to Antarctic research bases.
Upon arrival at final destination in Romania, the barges will be lifted on to RSV Nuyina by her onboard cranes, where they will be lashed to the cargo hatches.