Arctic Offshore Farming has invested in a new type of feed barge model in steel
The giant barge also has a very environmentally friendly feeding system.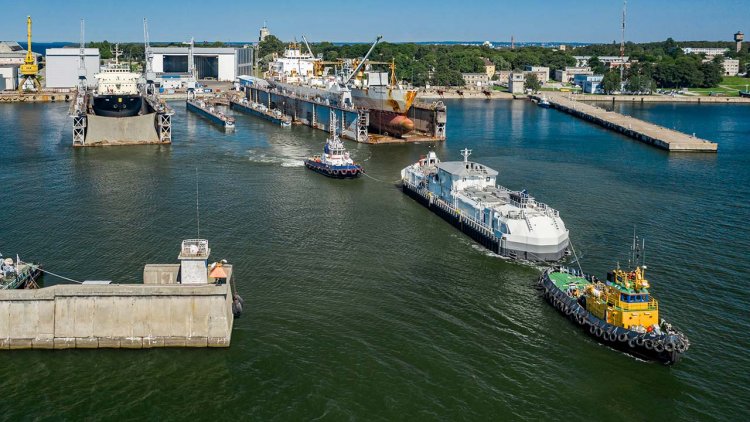 Photo: AKVA group
The feed barge from AKVA group excels in size and robustness with a length of 64.8 meters. A standard feed barge, an AC450C from AKVA group (in red) at the rear end demonstrates the size ratio.
Arctic Offshore Farming AS (AOF) is a wholly-owned subsidiary of Norway Royal Salmon ASA (NRS). In 2018, NRS/AOF was awarded development licenses from the Norwegian Directorate of Fisheries to develop semi-submersible steel structures (cages) for salmon farming in Troms in Northern Norway. Two pens with a total capacity of 5990 MTB are being built for the location Fellesholmen west of Tromsø. The fish farm is controlled and managed from a joint feed and service barge, developed in collaboration with, and built by, AKVA group. The pens will be ready to be populated in the summer of 2021 with the first fish produced ready for delivery to the market in 2022.
A feed and service barge with a similar combination of characteristics has not previously been delivered in the aquaculture industry.
Kent Ims Borsheim, Project Manager in AKVA group, says:
"This is the toughest barge AKVA group has ever made and it can handle «weather from all sides»."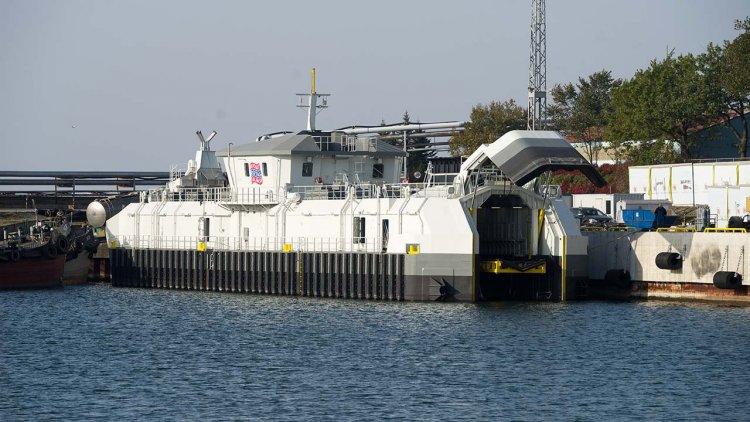 The feed and service barge AC800PVDB has a unique composition; it is over 64 meters long and built for extreme conditions with a total tonnage of 800 metric tons, brand new environmentally friendly waterborne feeding technology and dimensioned for a significant wave height of 6.5 meters - specially designed for exposed locations. This is also the first barge that is designed with a bottom outlet for feed hoses in order to be able to use all sides of the barge for e.g. receiving feed. In addition, the barge is equipped with an integrated boat garage that can handle boats up to 10.5 m at the stern.
AKVA group has designed the barge with new technology for waterborne feeding, which was first presented at AquaNor in 2019. This is the second feed barge to be delivered with the new type of waterborne feeding technology.
Borsheim says:
"With waterborne feeding, the barge is very quiet in operation and environmentally friendly."
Waterborne feeding represents a shift to extremely low energy consumption compared to air transport of the feed. Tests carried out during the development of waterborne feeding showed an energy reduction of as much as 70-90 per cent compared with air transport.
Borsheim says:
"The low energy consumption in feeding represents a significant cost saving in generator operation - approx. NOK 200,000 in monthly savings for a conventional feeding system with 8-10 pens."