World's first bunkering of containership with renewable synthetic natural gas
MAN Energy Solutions, Elbdeich and Unifeeder herald new milestone for Maritime Energy Transition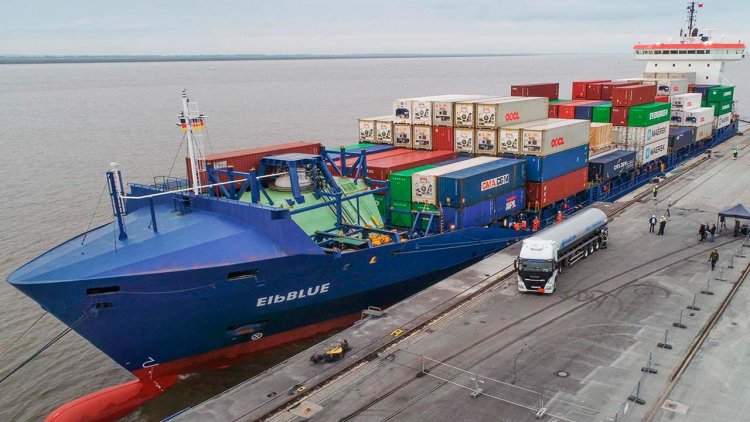 Photo: MAN Energy Solutions
In a world-first for the maritime sector, the containership, 'ElbBLUE' – owned by German shipowner Elbdeich Reederei and operated by charterer Unifeeder – has bunkered some 20 tons of green SNG (Synthetic Natural Gas) at the Elbe port in Brunsbüttel, Germany.
MAN Energy Solutions held a ceremony to mark the event, which marks the first time ever that synthetic fuel – generated from 100% renewable energy via power-to-X technology – has been employed in commercial shipping.
Formerly known as the 'Wes Amelie', the 1,036-teu feeder container ship previously made headlines in 2017 when its MAN 8L48/60B main engine was retrofitted to its current, four-stroke MAN 51/60DF unit to enable dual-fuel operation. The first such conversion of its type globally, it showed that existing engines could be converted to LNG operation with a tremendous effect on exhaust emissions and the environment. The ElbBLUE sails in the North and Baltic Seas.
Stefan Eefting – Senior Vice President and Head of MAN PrimeServ, Augsburg –said:
"This is a crucial step on the road to decarbonising shipping and, in Elbdeich, we have the perfect partner. In reducing or even eliminating future emissions generated by the global supply-chain, synthetic fuels and engine retrofits have a crucial role to play. While a retrofit instantly reduces a ship's emission-levels, synthetic fuels like SNG can enable it to run 100% climate-neutrally. Today, we are demonstrating that any LNG-retrofitted ship can also run on fuels generated by power-to-X technology, and even as a mix of fuels depending on availability."
The liquefied SNG was produced in a power-to-gas facility in Werlte, Germany, owned by kiwi AG. It is generated using 100% renewable energy. The ElbBLUE is now set to continue its journey under the supervision of engineers from MAN PrimeServ, MAN Energy Solutions' after-sales division. As a result, the vessel's direct CO2 emissions are expected to decline by 56 tons for this coming trip.
Timm Niebergall, Shortsea Director Unifeeder, said:
"This is a great technology showcase and we are excited to be part of this. From the perspective of a charterer and as a leading operator of Feeder & Shortsea services in Europe and around the globe, we think that the future availability of green(er) fuels will be essential. Our customers in Europe and beyond are expecting innovative solutions for improving our, and thereby also their, carbon footprint – green SNG is an interesting product and we are therefore very proud to be the first Feeder & Shortsea operator testing this new fuel on one of our vessels."
Hermann Pengg-Buehrlen, CEO of kiwi AG, said:
"Our e-gas facility was the world's first multi-megawatt installation to generate synthetic natural gas from CO2 and renewable electricity. The liquefaction unit taken into operation in 2021 was especially designed for the liquefaction of SNG."