WE Tech to deliver its Solution Four for UECC's LNG vessel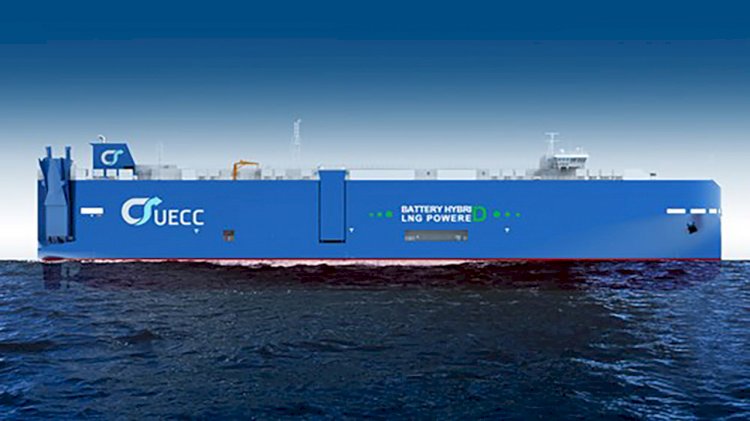 Photo: UECC
WE Tech Solutions, the leading energy efficiency solution provider, has received a repeat order from Jiangnan Shipyard Group Co. Ltd., China to deliver its Solution Four: Efficient Power Distribution for the third new generation PCTC vessel of United European Car Carriers (UECC).
In 2019, WE Tech has already contracted with Jiangnan Shipyard Group Co., Ltd, China for delivering the same solution to a series of two PCTC vessel of UECC.
The WE Tech Solution Four includes WE Drive, Direct Drive Permanent Magnet Shaft Generator, DC-link power distribution, Energy Storage System (ESS) and the Energy Management System (EMS). This tailored solution will place UECC's new vessels beyond IMO's target for a 40 percent reduction in carbon intensity by 2030. They will also meet the IMO Tier 3 NOx emissions limitations entering into force in the Baltic and North Sea from 2021 keel lays.
Mr Martin Andtfolk, Sales Manager of WE Tech Solutions, says:
"We take this repeat order as shipowner and shipyard's acknowledgement of our reliable and highly environmental-sustainable solutions. the Efficient Power Distribution Solution together with ESS will make vessel electric power generation even more efficient and cost-effective."
In PTO mode the vessel's electrical power distribution will be supplied from a Permanent Magnet Shaft Generator. Together with the WE Drive the power from the Shaft Generator will keep stable frequency and voltage independent of Main Engine revolutions. Thus, allowing the Propulsion System to always operated in the most efficient way.
The ESS is a remarkable step forward to save even more fuel. It provides both Main Engine and Auxiliary Engines peak shaving, further increasing the energy efficiency of the vessel. The battery-based solution also improves flexibility and reliability via providing an energy reserve for blackout prevention so that the Auxiliary Gensets can be stopped without causing any blackout risk. As the operating hours of the Auxiliary Generators are reduced there will be significant savings in service and maintenance costs. During manoeuvring or while in port, the solution reduces emissions when the vessel can also utilise the power stored in the ESS.
Mr Martin Andtfolk says:
"WE Tech is proud to be a pioneer to supply the most energy efficient solutions. With our proven technology, we take our customers to success in terms of energy efficiency, fuel consumption and green values."