Viking marks float out of the fitst expedition ship
Set to Debut in January 2022, Viking Octantis Meets Water for First Time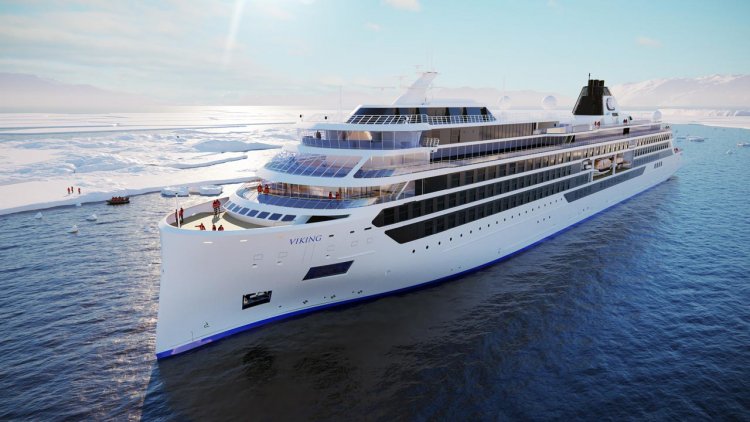 Photo: Viking
Viking® has announced its first expedition ship – the 378-guest Viking Octantis®– was "floated out," marking a major construction milestone and the first time that the new ship touches water.
Scheduled to debut in early 2022, Viking Octantis will spend her maiden season sailing voyages to Antarctica and North America's Great Lakes. A second, identical expedition ship, Viking Polaris®, is set to debut in summer 2022 and will sail journeys to Antarctica and the Arctic. Viking has also developed a series of short videos about the new expedition voyages, ship design and prestigious scientific partnerships, which can be found on its website here .
Torstein Hagen, Chairman of Viking, said:
"Working with Fincantieri over the last eight years, we have built the world's most beautiful ocean ships. We are pleased to continue our partnership with Fincantieri's VARD and celebrate this important milestone in the construction of our first expedition vessel. In creating 'the thinking person's expedition,' we are perfecting polar expedition cruising, and we will usher in a new era of comfortable exploration in the heart of North America. Viking Octantis and her sister ship, Viking Polaris, will allow our guests to explore further – to the ends of the earth as well as closer to home."
The float out is significant because it denotes a ship moving into its final stage of construction. The float out ceremony of Viking Octantis took place on December 22; she was then moved to a nearby outfitting dock for further construction and interior build-out. After final outfitting, Viking Octantis will be delivered at Fincantieri's VARD shipyard in Søviknes, Norway.
The new Polar Class 6 Viking Octantis and Viking Polaris will host 378 guests in 189 staterooms. Designed by the same nautical architects and engineers that designed Viking ocean ships, the ships are optimally sized and built for expeditions – small enough to navigate remote polar regions and the St. Lawrence River, while large enough to provide superior handling and stability in the roughest seas. The ships will feature public spaces that are familiar to Viking's ocean cruise guests but that have been reimagined for expeditions, as well as new public spaces created specifically for expeditions. Straight bows, longer hulls and state-of-the-art fin stabilizers will allow the ships to glide over the waves for the calmest possible journey; ice-strengthened Polar Class 6 hulls will provide the safest way to explore; and U-tank stabilizers will significantly decrease rolling by up to 50 percent when the ships are stationary. Viking's expedition ships will feature modern Scandinavian design with elegant touches, intimate spaces and attention to detail.