Thecla Bodewes Shipyards announced the new SALMO series
The SALMO series is the shipyard's latest product line of innovative Diesel-Electric Propelled Dry Cargo Vessels of 5,000dwt and 6,500dwt.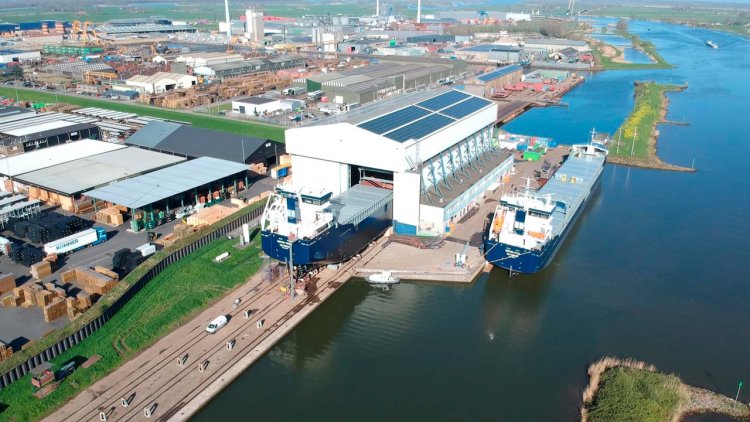 Thecla Bodewes Shipyards announces the unveiling of the SALMO: its latest product line of innovative Diesel-Electric Propelled Dry Cargo Vessels of 5,000dwt (208,860 cuft) and 6,500dwt (314,330 cuft). This state-of-the-art vessel series marks a significant milestone in the yard's commitment to sustainable shipping solutions, aligning with the importance of implementing the Energy Efficiency Design Index (EEDI) in new vessel design.
The SALMO series is the successor to the LABRAX series and features a hull form which is specifically developed for diesel-electric propulsion and includes all the experience gained from the larger LABRAX series. Both the SALMO 5,000dwt and 6,500dwt dry cargo vessel offer outstanding advantages in terms of an especially efficient hull shape and reliable diesel-electric propulsion system and fulfils all demands on a dry cargo vessel with highly efficient cargo hold, high stowage numbers, low fuel consumption, and low emission.
The layout of the SALMO series incorporates provisions for future alternative fuel sources and has space allocated for future installation of a fuel supply skid such as methanol, ammonia or hydrogen. Energy storage systems for peak-shaving and low emission harbour operations are possible add-ons to the sophisticated diesel-electric propulsion system, which is a standard feature of the SALMO series vessel.
Wilco Smit, Project Developer:
"At Thecla Bodewes Shipyards we recognize the urgent need for sustainable solutions that balance economic growth and environmental responsibility. Our SALMO dry cargo vessel series is a testament to our commitment to advancing energy-efficient and eco-friendly shipbuilding practices. By integrating cutting-edge technologies and adhering to lowering the EEDI numbers, we have developed a vessel that significantly reduces fuel consumption and emissions, making it an ideal choice for environmentally conscious shipping companies."
Thecla Bodewes Shipyards acknowledges the crucial need to reduce carbon emissions and optimize energy consumption in maritime transport. By incorporating innovative technologies, advanced propulsion systems and optimized hull designs, the shipyard offers its clients vessels that not only comply with environmental regulations but also deliver enhanced fuel efficiency and operational performance.
With 2,999 GT the SALMO-5000 vessel is most suitable for dry cargo, containers on deck and project cargo. The optional Open-Top class notation provides for a full deck opening for larger project cargo transports. With a further optional Ice Class 1A notation the vessel is the ideal match for operating in the Scandinavian waters. The SALMO-5000 measures 87.3m length overall, 13.7m beam and a draught of 6.30m. The single hold layout offers a loading capacity of no less than 208,860 cuft (5,900 m³) loading capacity.
Based on the same hull platform the SALMO-6500 incorporates two holds featuring a total hold volume of 314,330 cuft (9,800 m³). With a hull length of 118.5m, a beam of 13.70m and draught of 5.7m the SALMO-6500 is highly competitive compared to other vessels within the same deadweight range.