TenneT awards 22GW of offshore grid contracts
TenneT will build 20 gigawatts (GW) each in the German and Dutch North Sea with its innovative 2GW Program and pave the way for our next generation of offshore grid connection systems.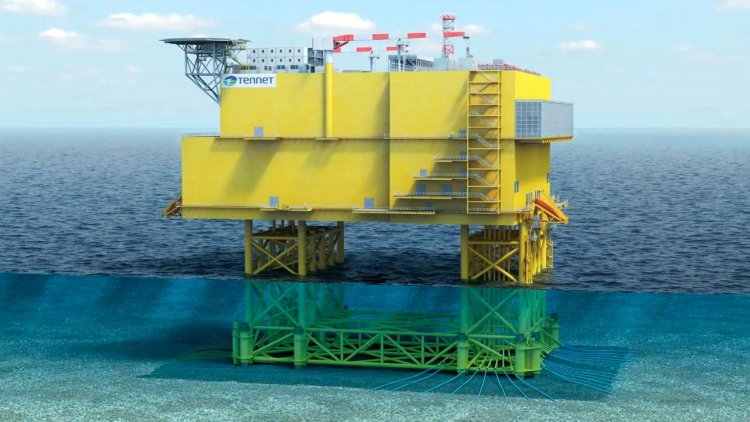 Photo: TenneT
With 40 gigawatts, Transmission System Operator (TSO) TenneT will account for almost two-thirds of the 65GW offshore wind energy target by 2030 agreed by Germany, the Netherlands, Denmark, and Belgium in the Esbjerg Declaration of May 2022 at the North Sea Energy Summit.
TenneT will build 20 gigawatts (GW) each in the German and Dutch North Sea with its innovative 2GW Program and pave the way for our next generation of offshore grid connection systems. The 2GW program consist of a new standardised platform and a new certified cable system with a higher transmission capacity. It plays a crucial role in developing the offshore energy transition and will help Europe become the world's first climate-neutral continent.
In a collaboration with Hitachi Energy and Petrofac and consortia of GE/SMOP and GE/McDermott TenneT awarded multiyear agreements to connect eight offshore wind farms in the Netherlands and three offshore wind farms in Germany until 2031. Future additional HVDC stations are planned to be called off at a later stage. The announced agreements cover offshore platforms and onshore stations, as well as the HVDC system for the two-way conversion between alternating and direct currents.
The awarded suppliers will start preparatory work for the realisation of the projects with immediate effect to ensure that all projects can be delivered until 2031. The total volume of the eleven orders is approximately 23 billion euros.
Tim Meyerjürgens, COO TenneT said:
"TenneT has the technical know-how, scale and geographical position to connect wind energy from the North Sea. This is one of the most important infrastructure projects of the century; the green transformation of the energy system is key for the decarbonisation of industry. Together with our market partners we are very proud to have achieved another important milestone. Together we secure decisive acceleration of the offshore grid development and set the course for the future European energy landscape."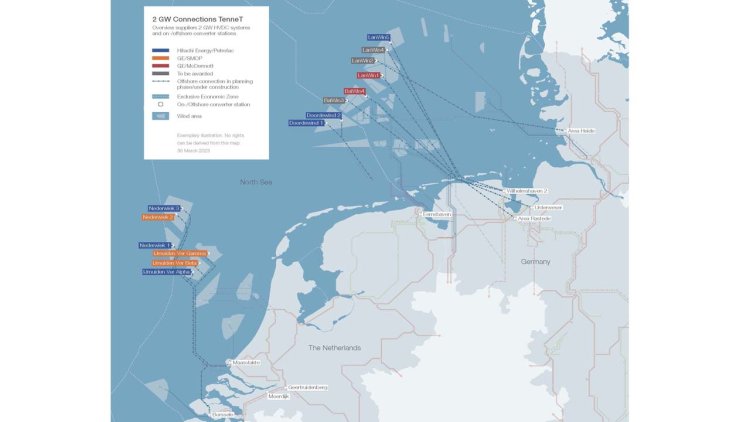 Niklas Persson, Managing Director at Hitachi Energy's Grid Integration business, said:
"This innovative business model will set the course for the integration of a huge amount of offshore wind power and gives visibility for the future. In fact, we are already hiring to expand our global delivery capacity and effectively fulfill these and other orders."
Sami Iskander, Petrofac's Group Chief Executive, said:
"Today's announcement represents an exciting next step in Petrofac and Hitachi Energy's collaboration. We have already secured key resource and the yard capacity required to expedite the first two projects in TenneT's ground-breaking programme. By combining Petrofac's industry-leading EPCI expertise and Hitachi Energy's well proven technology, we look forward to supporting TenneT to connect larger, more effective wind farms to deliver affordable clean energy for millions of European homes."
Philippe Piron, CEO GE Grid Solutions, said:
"Together with our consortium partners Sembcorp and McDermott, we are honoured and pleased to play a key role in this critical infrastructure project for European energy security and decarbonisation. These awards confirm that GE's Voltage-Sourced Converter HVDC technology is now recognised as one of the most advanced in the world."
Chris Ong, CEO of Sembcorp Marine, said:
"We are delighted together with our partner GE, to be selected by TenneT for three of their eleven two-gigawatt offshore converter platforms in the Netherlands. These are our largest and most advanced state-of-the-art offshore renewable energy projects to date."
Vaseem Khan, McDermott's Senior Vice President for Onshore, said:
"Our integrated EPCIC delivery model, combined with nearly a century of executing some of the most challenging offshore projects in the world, make us ideally suited to support TenneT on this important offshore grid connection systems project."
Marco Kuijpers, Director Large Projects Offshore TenneT said:
"The new long term approach goes hand in hand with a fundamental change in values towards a strong partnership. This approach enables both sides with more flexibility, technological progress, and planning security. This benefits all parties and secures employment, growth, and the strengthening of supply chains. We can already see that our partners invest in extra resources and facilities."
With its 2GW Program, TenneT has developed the global offshore standard in cooperation with leading global suppliers. This new standard combines TenneT's extensive expertise in offshore grid development with a unique transnational approach. With its strong focus on harmonisation and standardisation, it provides a blueprint for future offshore grid connection systems and enables faster deployment. At the same time, the larger capacity of two gigawatts per system reduces the number of grid connections required. The 2GW Program sets a new pace for the European energy transition. It will provide Europe and its inhabitants with more green energy in a safe and cost-effective way – all with the lowest possible environmental impact.