San Antonio Terminal Internacional receives new cranes
The new cranes for San Antonio Terminal Internacional (STI) arrived after a journey of almost 19,000 kilometers from China to the port.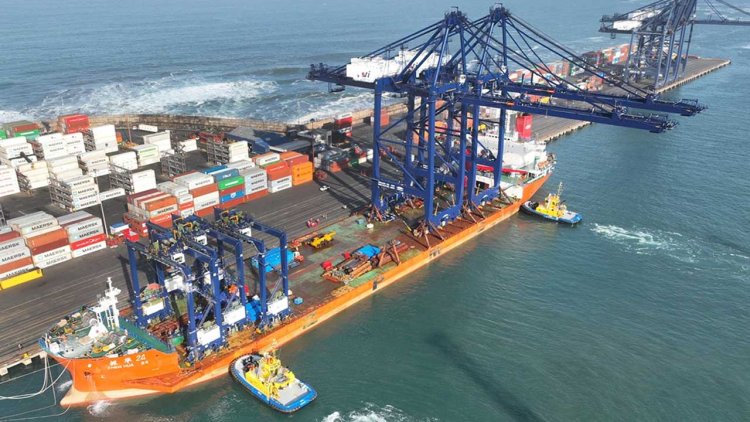 The two new Ship-to-Shore (STS) Super Post Panamax and two electric Rubber Tyred Gantry (RTG) cranes arrived on board the Zhen Hua 24.
"We have designed a detailed plan to receive and implement this new equipment, which will allow us to continue improving our efficiency in serving foreign trade. We are already planning unloading and installation: we will be the only terminal in Chile capable of simultaneously handling two Super Post Panamax vessels (366 m long and 51 m wide)," said STI's CEO, Rodrigo Galleguillos. Once these new cranes begin operating, STI's annual container throughput capacity will be 1.6 million TEUs.
The new equipment will be unloaded in the next few days. A team of Chinese professionals traveled especially to Chile to support the process of commissioning the cranes, which also includes training.
As part of this modernization project, the old Paceco STS cranes, in operation since 1997, will be dismantled in the next few days.
Elgueta explained, adding that coordination is underway with the Port of San Antonio and the Navy:
"We are working with an expert company and a special plan to ensure that the process is carried out safely, protecting people and the environment. It will be done in short timeframes, while continuing operations at our terminal."
Scrapping has no impact on the environment and the scrap metal will be reused. The dismantling process will take about 20 minutes. During this time, a loud noise may be heard near the terminal, which is normal given the scope of the operation.
STI is investing US$66 million to extend the terminal's concession to 2030 and modernize its assets.