Russian navy fires warning shots at cargo ship in Black Sea
A Russian warship fired warning shots at a cargo ship heading for the port of Izmail in southern Ukraine, the Russian Defence Ministry said on Sunday.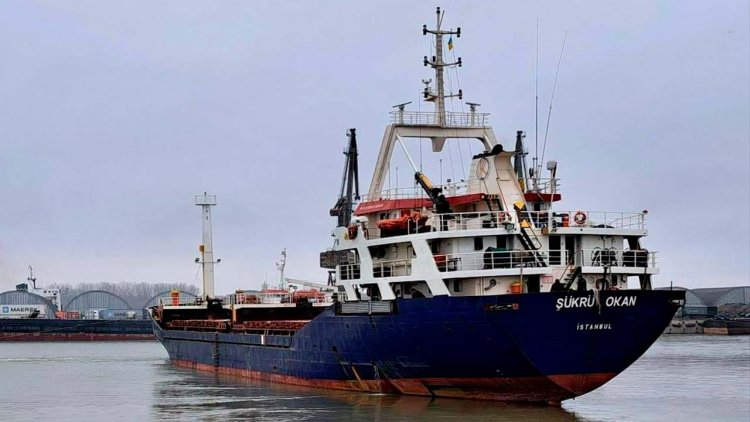 The incident comes after the collapse of a deal that ensured exports of Ukrainian grain could continue.
"In order to force the ship to stop, warning shots were fired with light automatic weapons from a Russian warship," the ministry said on Telegram.
According to Moscow, the captain of the Palau-flagged vessel, the Sukru Okan, had not responded to an order to stop for "an inspection concerning the transport of prohibited goods". There were no reports of any damage or casualties.
International shipping data showed the cargo ship had been in the south-western region of the Black Sea, near the coast of Bulgaria, and appeared to suggest it was heading towards the Romanian port Sulina, which is close to the border with Ukraine.
The news of the encounter comes just as Ukraine begins registering ships willing to use a safe "humanitarian corridor" it is trying to establish in the Black Sea, with a view to allowing trapped cargo ships to finally set sail.
It is not yet clear if Russia will acknowledge or respect the plan.
The river port of Izmail, in the Odesa region, has become one of the main exit routes for Ukrainian agricultural products since Moscow terminated the agreement on grain exports.
In mid-July, Moscow terminated the agreement that had allowed Ukrainian grain to leave the country's southern ports since last summer, despite the blockade put in place by Russia.
A few days later, on 19 July, Moscow warned that any ship travelling to or from Ukrainian ports would be considered a potential target. Kyiv reacted the next day by saying the same would apply to Russian ships.
Since then, the number of attacks in the Black Sea has increased on both sides and the Russian army has struck Odesa, a major port in southern Ukraine, as well as the river ports of Izmail and Reni on several occasions, attacks denounced by Kyiv as a means of hindering its exports.
Ukraine hit the Russian port of Novorossiysk and several Russian ships in the Black Sea, including an oil tanker.